Festival season is upon us, and with it comes an array of tempting food options. From funnel cakes and fried Oreos to gyros and tacos, it can be overwhelming to navigate the food choices during a festival. But fear not, as we've put together the ultimate guide to food during festival season.
Research vendors ahead of time
Before you head to a festival, look up the food vendors that will be there. This will give you an idea of what options are available and help you plan your meals in advance. Check out reviews and ratings of the vendors to see which ones are the most popular and highly recommended.
Opt for healthy options
While festival food is notorious for being indulgent, there are often healthier options available as well. Look for grilled or roasted options such as chicken kabobs or veggie skewers. You can also opt for salads, wraps, or fresh fruit options to stay on track with your healthy eating goals.
Share your food
Festival food portions are often much larger than what you would eat for a regular meal. Consider sharing your food with a friend or family member to cut down on portion sizes and avoid waste. This also allows you to sample more options without overindulging.
Stay hydrated
In the heat of summer, it's important to stay hydrated, especially when indulging in heavier festival foods. Make sure to drink plenty of water or other hydrating beverages to stay cool and avoid heat exhaustion.
Be mindful of allergies
Festival food vendors may not always have ingredients listed, so it's important to be mindful of any food allergies you or your group may have. Don't be afraid to ask vendors what ingredients are in their dishes, and if you have a severe allergy, be sure to bring medication with you just in case.
Try something new
Festivals are a great opportunity to try new foods or cuisines that you may not have had before. If you see a vendor with a unique or interesting menu, give it a try. You may discover a new favorite dish or cuisine.
Avoid foodborne illness
With so many food vendors in one place, it's important to be mindful of food safety. Look for vendors with clean and sanitary food preparation areas, and avoid dishes that have been sitting out in the sun for long periods of time. If you're unsure about a vendor's food safety practices, it's best to err on the side of caution and choose a different option.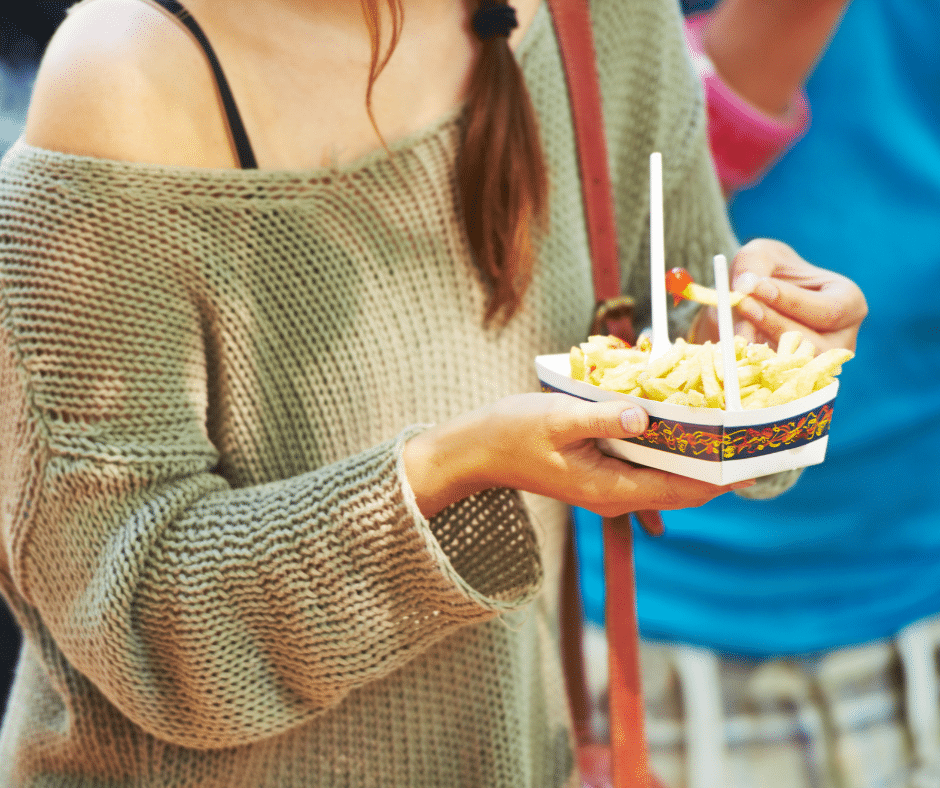 Indulge in moderation
While it's okay to indulge in some festival food favorites, it's important to do so in moderation. Don't make a habit of eating nothing but fried foods and sweets for several days in a row. Balance out heavy, indulgent foods with lighter, healthier options whenever possible.
In conclusion, festival season is a great opportunity to enjoy delicious and unique food options. By doing some research, opting for healthier options, sharing your food, staying hydrated, being mindful of allergies, trying something new, avoiding foodborne illness, and indulging in moderation, you can make the most out of the festival food experience without compromising your health goals.