2019 was a busy year in Hollywood, and we're not talking about the many blockbusters that were released. We're talking, of course, about all the celebrities who tied the knot this year – some after years of dating, and some rather new couples, from Sophie Turner and Joe Jonas to Chris Pratt and Katherine Schwarzenegger. Some weddings were secret, some were public, some were humble and others were over the top – you name it; but one thing's for sure – they were all glamorous – what celebrities know best. In case you're not up to date, we've ranked all the celebrity weddings of the past year, and this list is sure to put you in a festive mood to welcome the new year with open arms.
35. Jax Taylor and Brittany Cartwright
They met on the set of the reality show Vanderpump Rules (how many people in the crowd are now saying "oh, that's where I know them from?") and the show turned into reality when the two became a real-life couple. Brittany Carwright and Jax Taylor tied the knot recently in the bride's home town in a Kentucky castle. The venue wasn't just any castle, however, but one that is close to the bride's heart. Ever since she was a little girl dreaming of finding her prince charming, whenever she would pass by that castle, Brittany dreamed of getting married there.
Thus, while some couples take months to choose their perfect wedding location, when Jax popped the much-awaited question, Brittany instantly knew where she wanted their big day to take place – and it truly was a magical wedding. As you can expect, all their friends from Vanderpump Rules attended the event, including Lisa Vanderpump, and they even served as bridesmaids and best men.
34. Chris Pratt and Katherine Schwarzenegger
Some couples aren't afraid of commitment, as Katherine Schwarzenegger and Chris Pratt are here to prove. The 29-year-old daughter of Arnold Schwarzenegger and the 40-year-old actor (Jurassic World, Guardians of the Galaxy) tied the knot this summer after only several months of dating. His 6-year-old son from his previous marriage was the groom's guest of honor. While this constitutes Katherine's first marriage, Pratt was married before to actress Anna Faris in a marriage that lasted almost ten years. Hopefully, this will be his last one!
Now we get to the important part: the bride and groom's outfits. The fashionable couple both wore custom-made Armani suit and gown, designed and tailored by the acclaimed fashion designer Giorgio Armani. The bride wore not one, but two Armani gowns. It seems as if when you start your married life by wearing Giorgio Armani, it's a sure recipe for a good marriage, seeing as since their wedding ceremony in June, the couple is going strong, spending the holidays with each other's families and bursting with love (as far as we can tell from social media!)
33. Gina Rodriguez and Joe LoCicero
She won over our hearts in Jane the Virgin, and it was only a matter of time until Hollywood's sweetheart would win over the heart of her prince charming. The day finally arrived, and actress Gina Rodriguez tied the knot this year with her boyfriend actor Joe LoCicero, in a one-of-a-kind ceremony. The actress actually owes her happiness to Jane the Virgin – where she met her husband on set as he participated in the show as a stripper!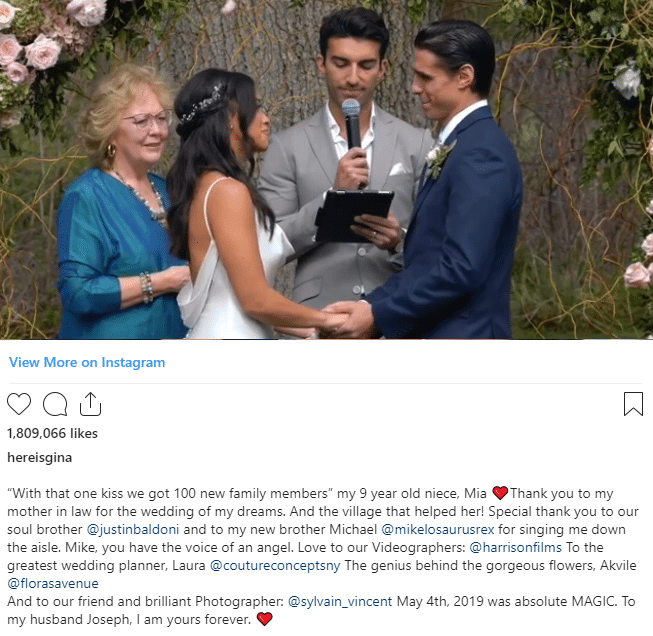 In the spur of the moment, the couple briefly considered getting married right after the Golden Globe award in January – since they were both already dressed up so nicely! (Shown in the pictures below). The actress loved her dress so much, she considered keeping it as her wedding gown. After serious consideration, they decided not to do it the same night, since they had to get up early for work the next day (can you blame them?). The blushing bride ended up wearing a different dress to her nuptials this past summer, but one that she loved just as much.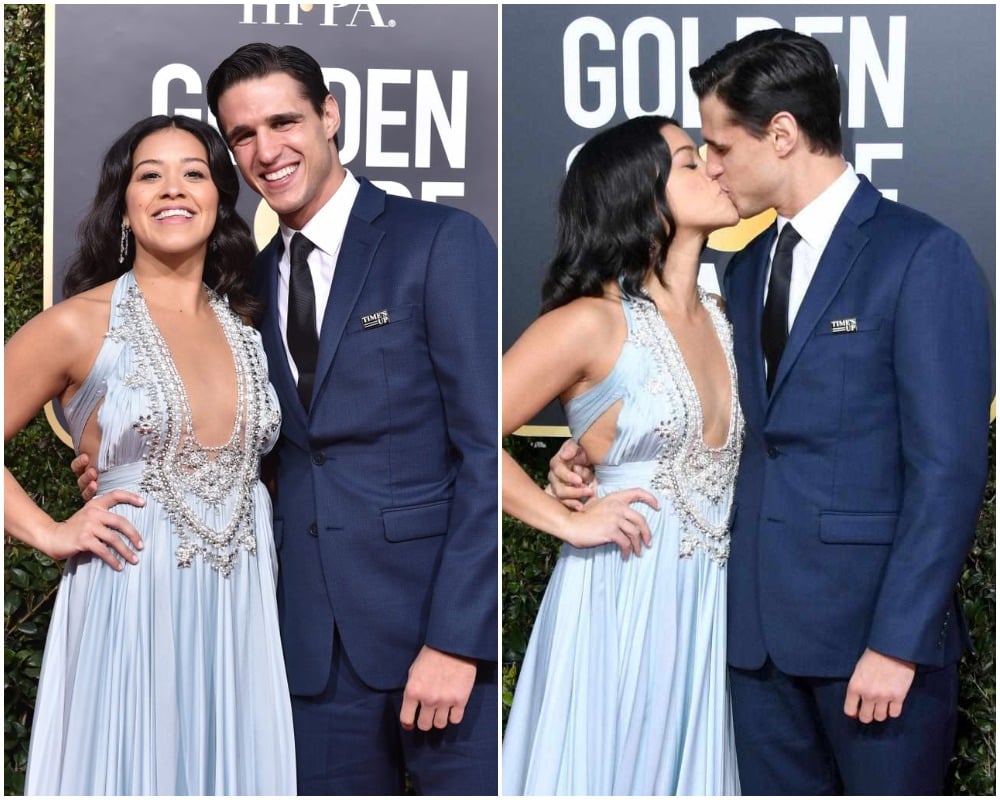 32. Marc Jacobs and Char Defrancesco
Even if you need to freshen up on your fashion world knowledge, you probably heard the name Marc Jacobs before. For the past two decades, he has been one of the most influential people in the fashion industry, and perhaps the biggest American fashion designer of the decade. As you can expect from a fashion designer (the biggest of the decade, no less) – their New York wedding was a picture of style and good taste. As Jacobs described his outfit on an Instagram post, and this is perhaps the sentence that best describes his life's work – God is in the details.
Specifically, he was referring to the penguins on both of the grooms' suits, which some of you may have noticed if you looked really closely. The suits as a whole are extremely impressive (and expensive), but the penguins are the real touch – the devil that's in the details: they each wore on their suit a diamond penguin (what else?) – a gift from a friend, since penguins mate for life, and have only one partner throughout life. Thus, they represent faithfulness and fidelity, and make for the perfect symbol for the perfect relationship, just like the one the couple shares.
31. Lea Michele and Zandy Reich
After going out for two years, actress Lea Michele and her boyfriend Zandy Reich decided that 2019 was the year when they finally tie the knot, and their wedding was exceptional. All celebrities invite their celebrity friends and co-stars to participate in their big day, but Lea Michele somewhat turned her wedding into a Glee reunion (not that we have any complaints). The ceremony was even officiated by her Glee co-star actor Ryan Murphy.
Choosing the perfect wedding gown is always one of the hardest decisions a bride has to face, and the endless options don't make it any easier. While it seems as if the new trend of wedding gowns is shades of pink, Michele kept it classy and went with a white gown and a matching white bouquet, while her husband, the founder and president of AYR clothing company, looked pretty dapper himself, in a navy suit and a bow-tie. Between the two, you can say that the groom's choice was less conventional.
30. Hilary Duff and Matthew Koma
Isn't it wonderful when you meet your soulmate completely by accident through your work? Singer-songwriter Matthew Koma and actress Hilary Duff met back in 2015 when they both worked with the same label company on two different albums. They dated on an off for two years, after which they decided they didn't want to see other people, but they rather settle down together. In 2018 they had a kid together, their daughter Banks, and this year they finally decided to make their relationship official in front of family and friends.
The actress shared that they are both very simple people, their relationship is simple, and so was Koma's proposal. Though it was long-planned, it was very simple and tasteful: he took his girlfriend and mother of his child to a casual night-walk in the park – one of the couple's favorite things to do together – and that's when he popped the question, and the ring. Their nuptials were help in a yard in front of their Los Angeles home (isn't it lucky when your house is so beautiful, you don't need to rent a venue?) and the ceremony was officiated by the actress' best friend and co-star from her latest show Younger, Molly Bernard.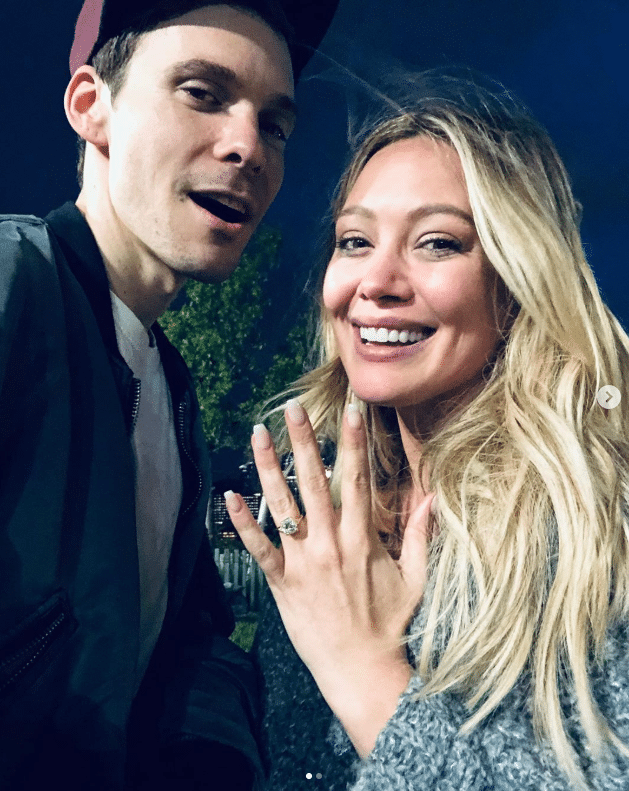 29. Joshua Jackson and Jodie Turner-Smith
Some Hollywood stars enjoy being in the lime-light, while others enjoy their privacy, American actor Joshua Jackson and British actress Jodie Turner-Smith among them. That's why, much like their relationship, their wedding was kept on the down low (that's to say – it was a secret celebrity wedding – our favorite kind!). Sure, it means that no photos of the wedding were published, which is a shame, but at the same time, it leaves everything open to the imagination!
After months, the rumors regarding the couple – their dating and later their breakup – were finally put to rest, when they were spotted in Los Angeles, leaving the Beverly Hills courthouse after picking up a marriage license this August. Later the year, at the premiere of Jodie's new film Queen and Slim, the couple's rings confirmed the secret marriage: the actress was wearing an oval diamond ring that's hard to miss, even from afar (shown in the photo), and her new husband wore a ring of his own, on the right finger, indicating the rumors were indeed correct.
28. Jennifer Lawrence and Cooke Maroney
For the past couple of years Jennifer Lawrence has been the hottest actress of Hollywood, and by hottest we mean the highest-earning actress in the industry. Thus, you can rightly expect that her wedding would be adequate to that title. Another thing that makes her the hottest actress in Hollywood is her style and glam that always seem effortless. Her wedding, accordingly, was stylish and elegant and at the same time it all looked completely effortless, as if an event like this one doesn't require months of planning and preparations.
The happy event took place at an old mansion in Rhode Island – the Belcourt of Newport mansion, a 40,000 square-foot estate; but that wasn't enough for the happy couple, who had numerous celebrations. They had a fancy engagement party back in the spring, and for the wedding ceremony, they hosted a clam bake the day before the nuptials. Perhaps of all the celebrities wedding, this one was the most star-studded (on our list, at least), as stars including Adele, Kris Jenner, Amy Schumer, Cameron Diaz and others who made an appearance.
27. Hilarie Burton and Jeffrey Dean Morgan
As we said, some couples rush into married life, while others take their sweet time, as was the case for actress Hilarie Burton (One Tree Hill) and actor Jefferey Dean Morgan (The Walking Dead), who tied the knot after a relationship of ten years. That's right. How many couples do you know that take a decade to get married? Not a lot, I bet. Burton admitted she was hesitant to make it official, even after ten years, not because she's hesitant about their love for each other, but because she hates weddings (well, those weren't her exact words, but we've taken some liberty in rephrasing here).
According to her, throwing a wedding is the same thing as throwing yourself a private prom in your honor, and it feels tacky. That's why they wanted to keep the nuptials simple, though their wedding photos might suggest otherwise. How did they manage it? To begin with, the ceremony was officiated by their close friend, and Morgan's Supernatural co-star, Jensen Ackles. He was also the one who introduced the two, so it was only symbolic that after ten years, he'd be the one to send them off to married life.
26. Ellie Goulding and Caspar Jopling
For those of you not familiar with the singer, you might mistakenly think this is a royal wedding. The photos definitely look like it, so it wouldn't be that far-fetched. But Ellie Goulding is a British singer, which had great success in the U.S, and her new husband, Caspar Jopling, is a British art dealer. As we said – not royalty, but not far from it! The wedding was held in England, at the York Minister Cathedral – thus the British, royal look of their surroundings – and the bride's classic dress with the high collar also resembles some royalty wedding dresses. So the confusion is understandable.
What followed the religious ceremony, however, was nothing like any royal wedding we've ever seen. The bride changed four dresses during the celebration that went into the night, shared a passionate kiss with her new husband while cutting the cake, and danced the night away with all her celebrity friends, including Katy Perry and Orlando Bloom, and James Blunt and Sarah Ferguson to name a few, at the reception held at the Castle Howard.
25. Dwayne "The Rock" Johnson and Lauren Hashian
Former WWE wrestler and actor Dwayne The Rock Johnson, and his girlfriend of the past 12 years, actor Lauren Hashian, finally tied the knot this September in a beautiful Hawaiian wedding, where just the two of them, their two daughters, a priest and a camera man were present – now that's what I call an intimate wedding! If you're wondering why the sky look so pink and beautiful in the couple's first picture as a husband and wife, it's because the ceremony was held at 7:45 am.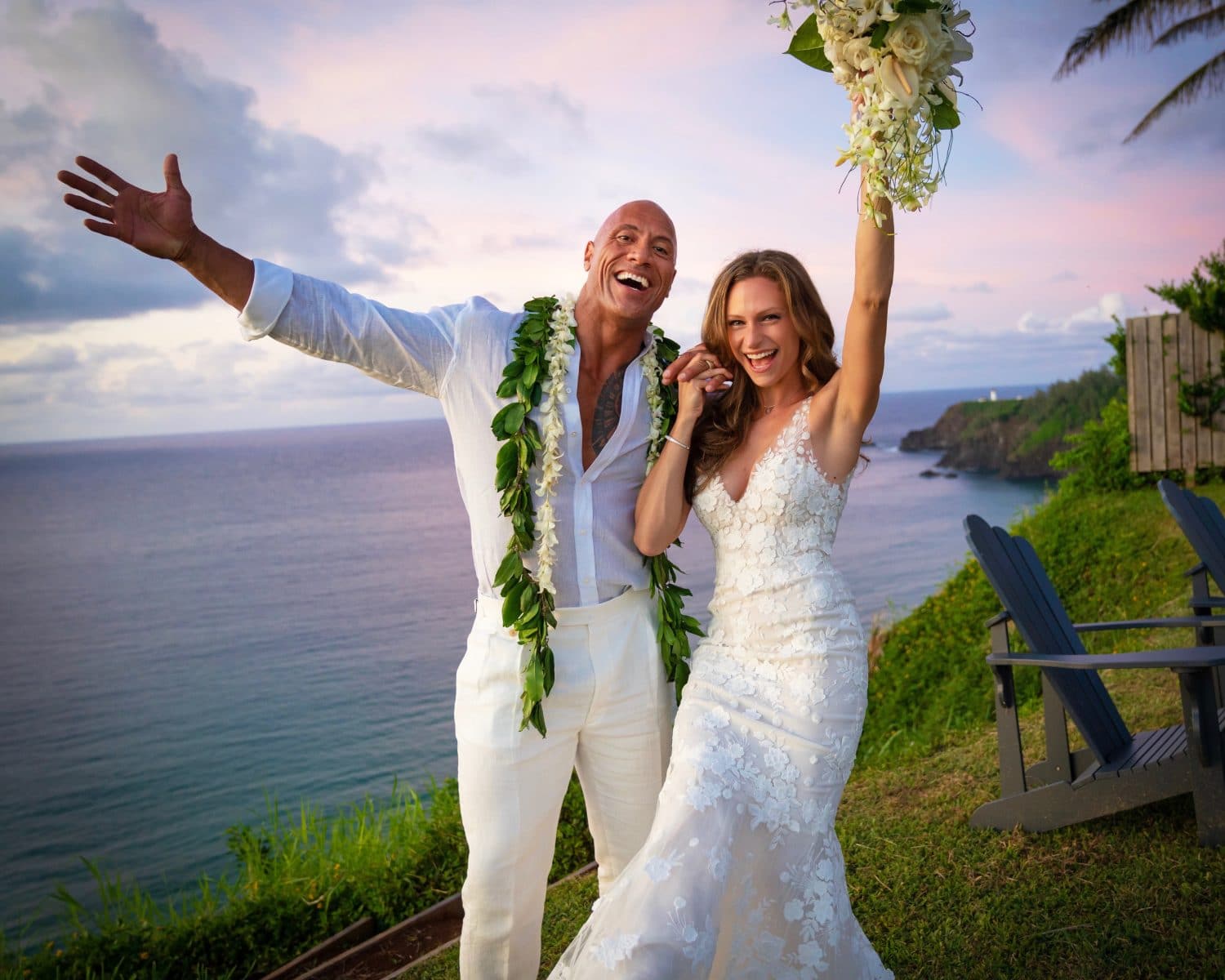 You can say that nothing about the couple's wedding was conventional, since they are not a conventional couple. The Rock admitted they woke up at 7 am to have the ceremony simply because it's the most beautiful time of day (as the photos prove). The ceremony was held at the island of Kauai, also known as Garden Island, and their five year old daughter performed as the flower girl. The couple said they didn't need anyone there but their happy little family, and you must admit – they can't look happier.
24. Wyatt Russell and Meredith Hagner
Actor Wyatt Russell (22 Jump Street) and actress Meredith Hagner (Men at Work) tied the knot this year in a rather unconventional wedding, but as this list proves, when it comes to celebrity weddings, there's no such thing as 'unconventional.' What do we mean by unconventional? The couple had a cowboy themed wedding, all the way. It was held at the home of Russell's parents – actress Goldie Hawn and actor Kurt Russell – in Snowmass village, near Aspen.
The newlyweds were spotted before the wedding wearing matching Texas tuxedos – denim on denim (yes, it has a name), and at the reception the guests could enjoy a mechanic bull. If you ask us, it doesn't get much more cowboy than this. Guests seemed to enjoy this theme and go along with it (you can't really refuse a bride on their wedding day, either way), and other actors and friends from the industry arrived at the happy event with cowboy outfits and enjoyed rides on the mechanic bull.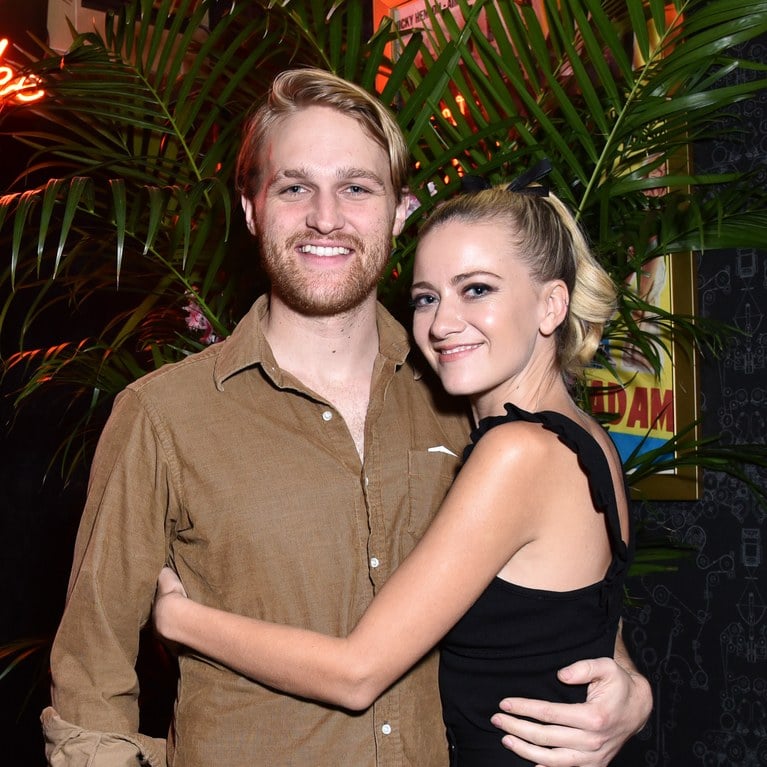 23. Heidi Klum and Tom Kaulitz
Since the supermodel and the rock star started dating in 2018, their relationship was the course for endless rumors and gossip. Specifically, gossip pertained to the fact that the supermodel (46) is 17 years the senior of her rock star boyfriend (29), the guitarist and songwriter of Tokyo Hotel. The model answered the accusations made against her, saying her age should not be of public interest, and that love knows no age limits. And indeed, a source close to the couple said the couple are in love over the roof, and as photos show, looks like they couldn't be happier together.
After registering for a marriage license at the Los Angeles courthouse, the adventurous couple officially tied the knot with family and friends on a yacht in Italy. The wedding party set sail from Capri, Italy, and the ceremony as well as the reception were both held on board. This sounds as original as you can get, but in fact, they are not the first celebrities to get married on a boat. The idea was inspired by the weddings of Jackie Onassis and Princess Grace Kelly, back in the fifties. The boat wasn't just any boat, but the luxurious Italian Yacht Christina O. (the 'o' stands for Jackie Onassis).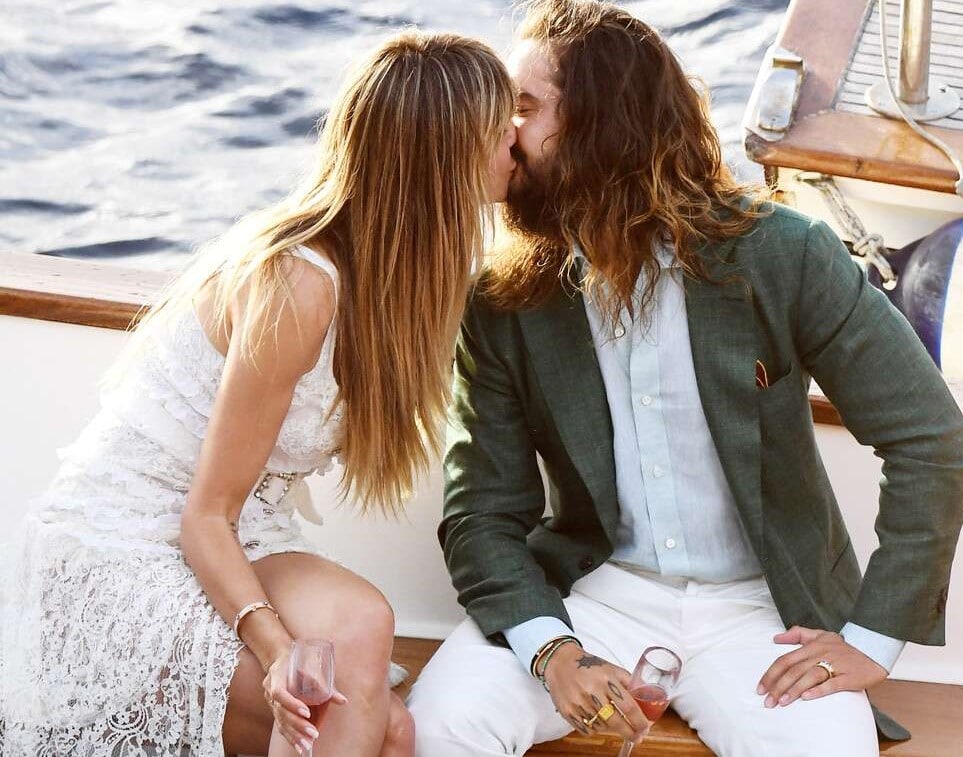 22. Chris Lane and Lauren Bushnell
Whoever said women are more emotional than men? This might be the case sometimes, but it sure wasn't the case at the wedding of Country music star Chris Lane and The Bachelor alum Lauren Bushnell. Rumor says that Chris was the one who couldn't hold back the tears during the ceremony, when his new wife read the vows she'd written. Not all people write their own vows, especially when it comes to celebrities who are too busy or have other people that can do it for them, but the country couple decided to do it the old-fashioned way.
The ceremony was held in Nashville – both the bride and groom's hometown – a decision that was encouraged by the groom. The bride revealed that she initially considered eloping, but her fiancee convinced her that in a few years she might regret not having a proper wedding. And thus, they ended up having a "secret" wedding of their 160 closest friends and family (what's secret about this wedding is beyond us, but that's how the couple considered it).
21. Flea and Melody Ehsani
When you take the bassist of one of the most successful rock bands in the world, and a fashion designer, you're ought to have yourself one dashing wedding. And indeed, the wedding ceremony of Red Hot Chilli Peppers, Michael Balzary (better known as "Flea") and Fashion designer Melody Ehsani was elegant and fancy, yet tasteful. Although it took her time to find the right person, Melody Ehsani (39) now couldn't be happier she didn't settle down for anyone else, despite her family and social pressure to get married earlier. For him, this constitutes his second marriage, and the musician indicated that this time he knows it will last.
The 57-year-old musician wasn't afraid to make a fashion statement in his second wedding, and chose a lavender suit (perhaps under the advice of his fashion-designer wife?), a rather unconventional color. But if there's one thing we know about musicians, is that they aren't afraid to stand out – and what a better opportunity to do so than at your very own special day?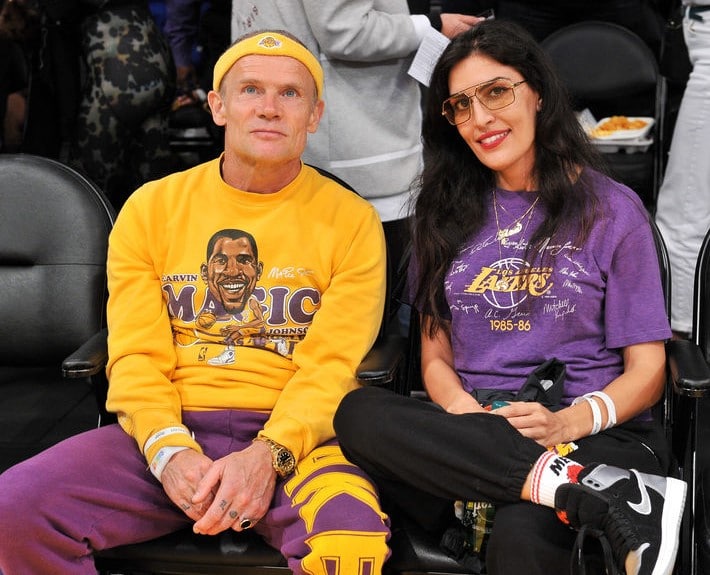 20. Sophie Turner and Joe Jonas
The spontaneous couple's first wedding was help in Vegas at the spur of the moment, after the two attended the Billboard Music Awards in Las Vegas. It was everything you know about a trashy Vegas wedding, held at the Little White Chapel wedding chapel, including the Elvis lookalike as the officiator of the ceremony. If you thought a Vegas wedding wasn't appropriate for a queen, think again – because the Queen of the North redefines the rules of the game.
But of course it doesn't end here – we're talking about celebrities, remember? Although all their friends attended the first, Vegas wedding, the handsome couple later held another celebration, one that is more appropriate for a queen. It took place in France, at an old castle (or a French Chateau), after en entire week of European-style celebrations. You can say that this event was everything the Vegas wedding wasn't – from the venue, to the flowers, the food and the bride's groom.
19. Justin Bieber and Hailey Baldwin
We're starting to notice a pattern of celebrities who have two weddings. After Joe Jonas and Sophie Turner set the trend, we find out that the young singer and model held two wedding ceremonies as well, if you count the first one as a ceremony. They initially tied the knot in a private civil ceremony in New York in 2018, but their real wedding celebration, the proper one, was help only a year later. Since he entered the music world, the young singer instantly accumulated a cult of "Beliebers," who followed his every move closely. Thus, when the acclaimed singer went off the market, it was a mournful day for thousands of fans.
Nor for us, though, because it meant another celebrity wedding, another wedding gown, and another exciting event. Now let's talk about the actual wedding: it was held at a boutique hotel in South Carolina – a place the couple once visited together. This celebration was meant for the couple to celebrate their happy day with their nearest and dearest, but hotel guests, who were denied entrance to the pool area during the time of the wedding (which we're already learned can be days when it comes to celebrities), did not share the happy couple's unconstrained excitement.
18. Leona Lewis and Dennis Jauch
The acclaimed British singer married her long-time Boyfriend in a beautiful Italian wedding. Their emotional ceremony is here to remind us that when we have love, we can overcome anything. Okay, that sounds a bit dramatic; what we really mean to say is that the perfect wedding only means having the perfect partner at your side. What makes us say that? Leona and Dennis planned the perfect wedding at the most romantic venue in Italy, when Mother Nature had other plans for them.
On the day of the ceremony, a big storm took them by surprise, and they had to accommodate and move the ceremony indoors. This storm turned out to be a blessing in disguise, as despite their concern that the chapel was too small to accommodate all 180 of their guests, it ended up creating a very close, intimate and romantic atmosphere. The singer later said it brought them closer to have this special closeness at the ceremony.
17. Bradley Whitford and Amy Landecker
Calling all fans of The Handmaid's Tale – now we get to the really interesting couple! Actor Bradley Whitford (known for his most recent role in The Handmaid's Tale as commander Lawrence) and actress Amy Landecker (Transparent) warmed our hearts with their union. Bradley (59) and Amy (49) met on the set of the acclaimed show Transparent. While their nuptials were somewhat spontaneous and private, their engagement was as public as can be – Whitford announced the happy engagement at the Academy Award red carpet.
The actor tweeted this photo of the lovebirds with the caption, "In a shocking, totally unearned plot twist, Commander Lawrence married Mrs. McKenzie today in Santa Barbara." His new wife, alluding to the show as well, published the same photo under the caption "Of Bradley. #eloped." Yes, they are both witty, and seems like they make a good match! But perhaps the more interesting part of the photo are their two adorable dogs – Otis and Izzy – who got to be the witnesses of the happy union at the courthouse.
16. Rafael Nadal and Mery Perelló
When we say celebrities we don't mean exclusively Hollywood stars, though that is usually the case. But world-renowned tennis players, such as Rafael Nadal, surely deserve a place on this list. And as it turns out, the tennis player's wedding was a lot fancier than any of the Hollywood celebrities on the list. The tennis sensation married his high school sweetheart, after spending the last fourteen years together! So of course, this much-anticipated wedding had to be nothing short of perfect.
The venue was the most expensive property in Spain – an old fort in Majorca, built in 1628. Unlike most celebrities, who prefer to keep their wedding as small and intimate as possible, the tennis ace threw a big party for the happy event, reportedly hosting 350 guests at the old fort. The guest list, though it was quite long, included some very exclusive people, including the king of Spain from 1975-2014, Juan Carlos I.
15. Matt Bellamy and Elle Evans
2019 was a big year for actress Kate Hudson – both her brother (Wyatt Russell) and her ex-boyfriend (Matt Bellamy) got married! The lead singer of Muse, and his girlfriend of four years, model Elle Evans, tied the note in a romantic Malibu wedding. While he was engaged twice before (one of these engagements with actress Kate Hudson), this is the first wedding of the musician, which means this time he knows he's in for the long run! We wish them all the best.
For the young model, however, this is the first engagement as well as the first wedding. When he popped the question in a romantic horse-back ride on the shore of Fiji, we knew the wedding was going to be just as sensational as the proposal. The couple matched their outfits with the flowers surrounding them and the bride's bouquet – the bride in a stunning Martina Liana gown, and the groom with a stone-colored suit and a pink bow tie, both looking very stylish and festive.
14. Jude Law and Phillipa Coan
There was a time when actor Jude Law was Hollywood's most eligible bachelor, right up there on the list with George Clooney and Leonardo DiCaprio. The actor tied the knot with his girlfriend Phillipa Coan in a low-key, surprise ceremony in London, and failed to invite his Hollywood friends. None of his friends or colleagues from the entertainment industry attended the secret wedding, but rather close family and friends of the couple. Nonetheless, as intimate as the wedding was, it could not slip under the radar of curious fans.
And of course, it didn't slip under the paparazzi radar either! So luckily for us, we get a glimpse of the couple strolling the streets of London on their way to Town Hall, right before the emotional ceremony, the bride in a simple, yet elegant short cream-white dress, fitting a business woman, and the groom, on the contrary, in a blue corduroy suit and a dapper hat, not as delicate as the bride's outfit. Law has had his fair share of relationships, and he has five children from three different women. We hope this marriage will be his last one.
13. Idris Elba and Sabrina Dhowre
A lot of thought was put behind actor's Idris Elba and actress Sabrina Dhowre's wedding, from the location, to the vows, the guest list, and finally the bride's gown – and it's almost impossible to decide what to begin with! Let's start with the location, since it's one we've never heard of before: we've seen weddings on a yacht, weddings in European castles, cowboy weddings at the countryside, but this wedding truly takes first place when it comes to the location: the couple tied the knot in Marrakesh, Morocco, under the Moroccan sunset.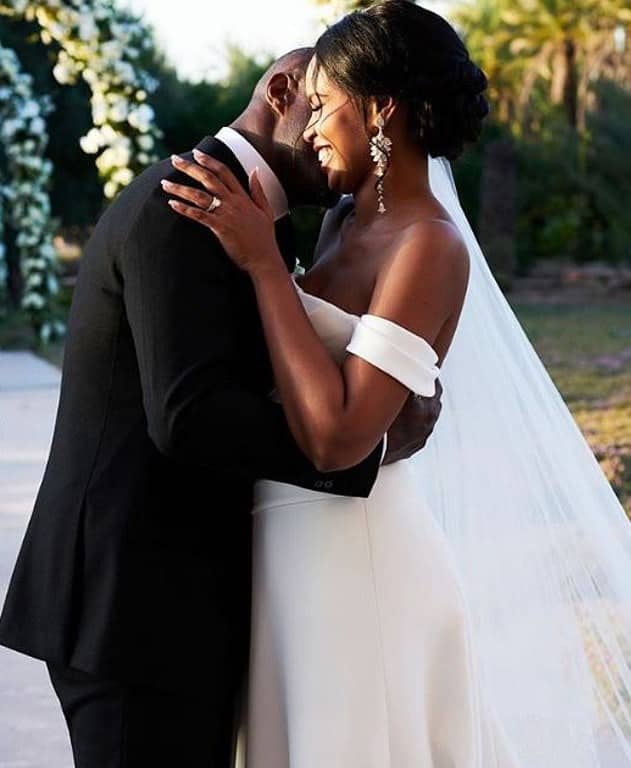 Why Morocco? The bride's family comes from East Africa, and the groom's family comes from West Africa, so the couple decided to meet somewhere in the middle – and that's how they came up with Morocco, which, despite its sometimes questionable reputation, is said to be a beautiful country. The wedding was a proper festival, a three-day celebration at the heart of Morocco. They made their wedding a cultural event, with the groom wearing a customary fabric from his father's tribe for the main party after the ceremony. This is truly one of the most unique celebrity weddings of the year and perhaps of the decade.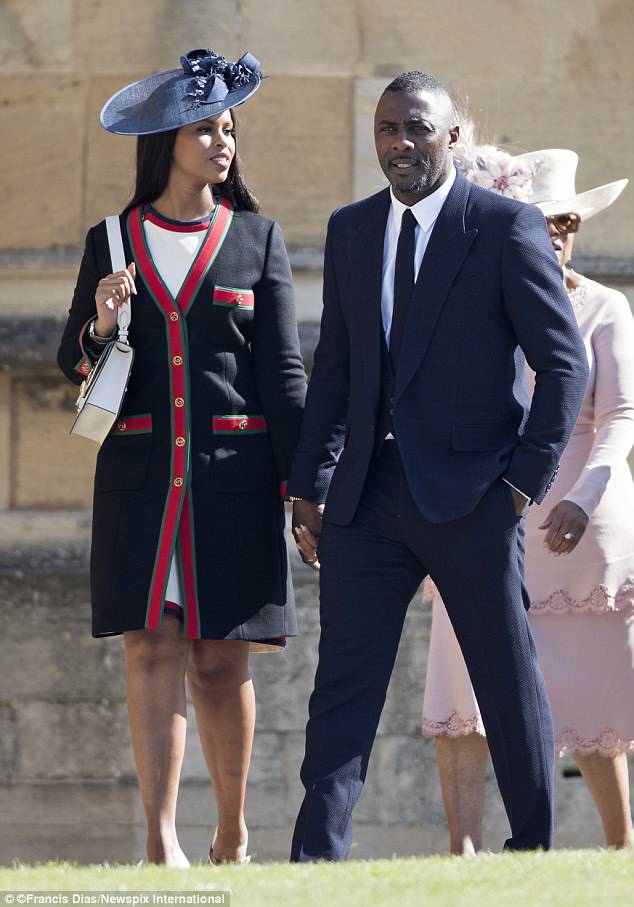 12. Ed Sheeran and Cherry Seaborn
And from the colorful Moroccan wedding, we're back to England: Acclaimed singer Ed Sheeran and his childhood sweetheart Cherry Seaborn tied the knot this year, twice! Yes, they had a private, secret ceremony to seal the deal, and later hosted a big, star-studded party for all their nearest and dearest (and some other people). The singer and his new wife have known each other since high school, but it was only in 2015 that he finally mustered the courage to ask her out! And in 2018, after three years of dating, he mustered the courage to take it to the next level.
The couple's engagement was first revealed during a concert, where the singer was spotted wearing an engagement ring (made by his fiancee, who, as it turns out, has many talents!). They had a secret ceremony for their closest friends from high school, family, and the priest, in their backyard. Maybe it was the guilt or maybe they just wanted a reason to party, but several months later, they hosted another, bigger party for all their Hollywood friends.
11. Darren Criss and Mia Swier
Forget about the intimate wedding ceremonies – most people get married only once in a lifetime, and so why not make the best of it? Emmy-winning actor Darren Criss and writer/producer Mia Sweir sure did, with a four-day wedding extravaganza. The best thing about being a celebrity, apparently, is having so many talented friends. The couple didn't need to hire a wedding bad to play, but instead enlisted their celebrity friends, Leah Michele and John Stamos among them, to play and entertain the guests.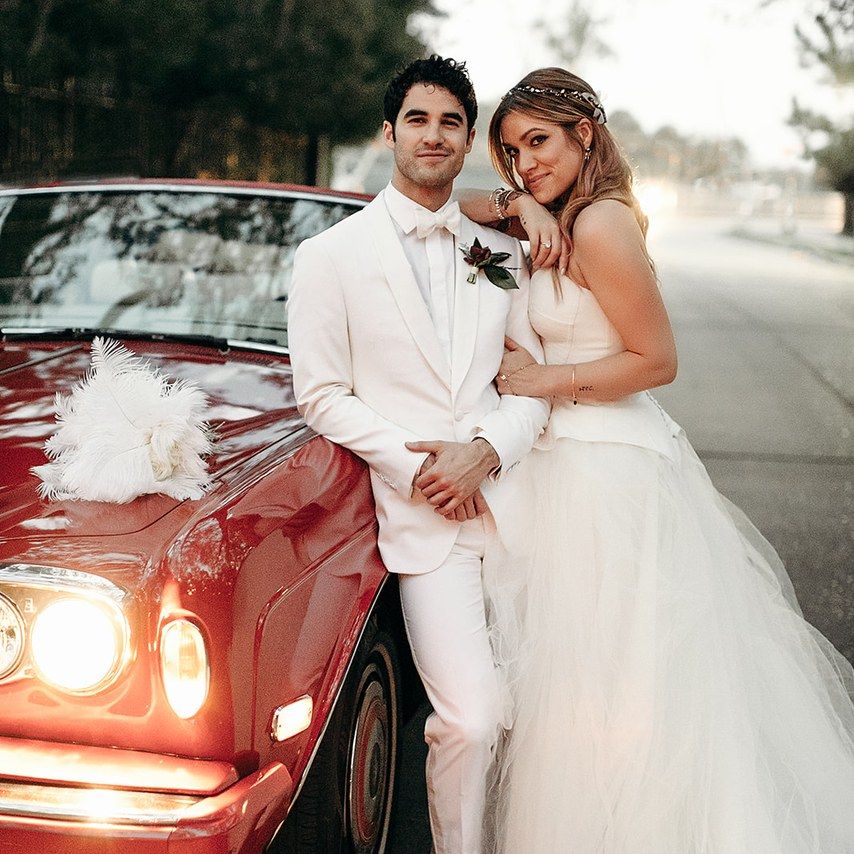 The wedding celebrations took place in colorful New Orleans, a place close to the couple's hearts, where they spent a lot of beautiful (as well as tough) moments together; it started on the 14th of February – Valentine's Day – which is somewhat tacky, but I guess you're allowed to be tacky on your wedding day. After all, it's a day celebrating love. The couple said it was "less of a celebration of them specifically" but more of a celebration of life, their friends and the journey they are about to embark on together.
10. Miranda Lambert and Brendan McLoughlin
Country star Miranda Lambert and her NYPD police officer Brendan McLoughlin are another celebrity couple who kept their wedding a secret. They said that "it's not for anyone else" but the two of them, but secretly, we think they enjoy the added attention and curiosity around a secret wedding. The singer was burned in the past by having her love life under the spotlight, so with this new relationship, that started in 2018, she learned from past mistakes and kept their entire relationship a secret, including the wedding.
Her previous relationship with fellow country star Blake Shelton attracted great public attention, and so did the couple's wedding, and later their divorce. Miranda resented how public everything about her relationship was – the good parts and the bad parts – and so she wanted her second time around to be different. After having one big lavish, public wedding with her ex Blake Shelton, this wedding was the complete opposite. How secret was it? The first time she publicly revealed their relationship was after they had tied the knot, and even her band-mates and closest friends, the ones who set the couple up together, weren't invited. It was just the two of them, and it was exactly what she wanted – to have their special moment together.
9. Zoë Kravitz and Karl Glusman
American actress and model Zoë Kravitz and actor Karl Glusman got married twice this year, celebrating their love with a wedding suspiciously similar to the French wedding actress Sophie Turner and Joe Jonas had. Both weddings took place in the summer of 2019 and both were in France. There are some minor differences, however. Unlike Turner and Jonas, who hosted their gusts in an old castle at the south of France, Zoë Kravitz and Karl Glusman's event took place in Paris – the most romantic city in the world, as some people would argue.
The bride's father, musician Lenny Kravitz, hosted the ceremony and reception at his estate in Paris. Spotted at the event were Hollywood stars Reese Witherspoon and Nicole Kidman, the bride's costars from Big Little Lies, as well as other friends from the industry, including Denzel Washington, Cara Delevingne, and singer Alicia Keys. After the wedding, the couple headed to the south of France for further celebrations.
8. Lady Gabriella Windsor and Thomas Kingston
We're all familiar with Prince William and Kate Middleton, and the more scandalous Prince Harry and Meghan Markle, but let's not forget the royal family is a lot larger than the two redhead brothers. Lady Gabriella of Windsor is the daughter of Prince Michael of Kent, first cousin of Queen Elizabeth. This wedding was no different than most royal weddings, and so it took place at St. George's Chapel at Windsor Chapel – the same cathedral where Prince Harry and Meghan Markle, the Duchess of Sussex, tied the knot a little more than a year ago.
Naturally, the wedding caused quite a stir in the U.K, with people asking question regarding the ceremony, the outfits and of course, the guests. Interestingly, though Gabriella did not attend his wedding a year earlier, and though he had a 2-week old son on his hands, Prince Harry made an appearance at the royal wedding. Princess Eugenie, another one of the cousins, however, skipped this happy event, although just a year ago, Gabriella attended her own wedding. Talk about priorities.
7. Dimitri Rassam and Charlotte Casiraghi
The apple doesn't fall far from the tree, and in this case, the tree is grandmother Grace Kelly, and the apple is granddaughter Charlotte Casiraghi, who got married in a stylish wedding that only the iconic Grace Kelly was capable of. The princess of Monaco, daughter of Princess Caroline, tied the knot this year with her film producer boyfriend Dimitri Rassam, and the wedding was a proper royal event, one that wouldn't shame the royal family of the United Kingdom.
The couple had two ceremonies – a low-key civil ceremony at the Prince's Palace in Monaco, and yet another celebration help later that night, which gave them a chance to let their hair down and party. In case you were wondering, the bride changed yet another gown for the evening celebration, which brings the dresses count up to three. This time, the groom also changed his suit for each of the celebrations. For the evening celebration, the bride matched her dress with a diamond necklace, believed to be an heirloom of her fashion-icon grandmother Grace Kelly.
6. Cheryl Burke and Matthew Lawrence
They are the ultimate couple of reality shows, reality royalty, if you will. Cheryl Burke should look familiar to the Dancing with the Stars fans in the crowd (she has been an integral part of the show since the second season) and her new husband Matthew Lawrence has a talent for starting his own shows, including Boy Meets World and Brotherly Love. This year, however, their biggest role was bride and groom at their sensational wedding. The couple had a long history to their relationship before fianlly tying the knot this summer; they dated 13 years ago back in 2006, but it wasn't their time yet, and they broke up after a year of dating. Nine years later, in 2017, they reconnected, and this time was the charm.
after all this time, it shouldn't come as a surprise that the ceremony was a "tear-jerker" (to use the words of the bride!). Luckily for the bride, she anticipated this would be a tearful event (in the good sense) for both her and her groom, and so she asked her maid of honor, Leah Remini, to store some tissues in her bra. According to an interview with People Magazine – it came in handy! Some would say the wedding was somewhat over the top, with a mirrored dance floor and twinkling lights, but this was the bride's dream wedding since she was a girl, so it's understandable.
5. Caroline Wozniacki and David Lee
Who knew sports star had this much glam? Not we! But the wedding of Danish tennis superstar Caroline Wozniacki and NBA star David Lee proves us wrong. The athletic couple tied the knot earlier this year in a beautiful Tuscan wedding. The nuptials took place at a winery in Tuscany at six p.m, under the Tuscan sunset. In case you were wondering, this is the best time to have a wedding ceremony, as you can see by the wedding photos – the lighting was perfect.
As you could have expected from a couple of superstar athletes, among the guests were some of the world's most noted athletes, including tennis sensation Serena Williams, the bride's best friend. And in case you were wondering about the blushing bride's dress – it was custom-made by designer Oscar de la Renta, a huge name in the fashion industry, under the advice of Anna Wintour – Vogue editor. What else can we say? Everything about the wedding was as perfect as Caroline's gowns, from the venue, to the exclusive guest list, the happy couple (going into their fifth year together as a married couple), to the fireworks sealing the Tuscan ceremony.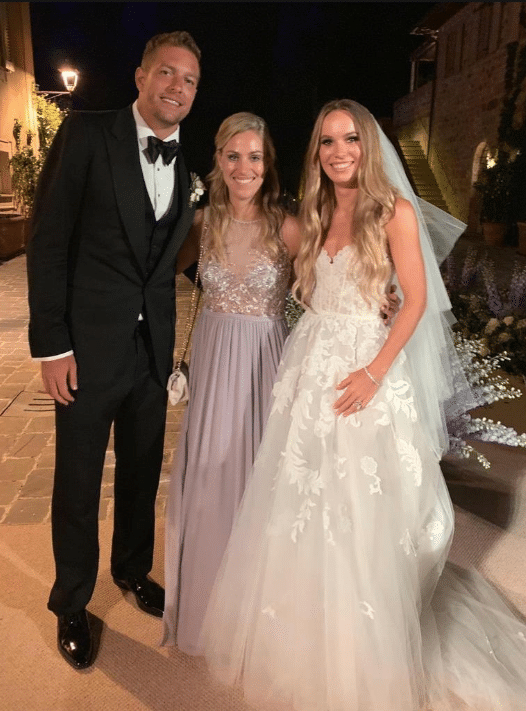 4. Jeremy Allen White and Addison Timlin
Shameless star, Jeremy Allan White, and Fallen actress Addison Timlin are perhaps our favorite couple of the year. Their wedding was so simple and humble, and at the same time elegant and romantic. They are one of these Hollywood couples that prove you don't need bling to have a beautiful wedding, and that not all that glitters is gold. The couple tied the knot this October at the Beverly Hills courthouse in Los Angeles, accompanied by family and close friends (who include fellow celebrities such as Dakota Johnson and Chris Martin, because as humble as it was, it's still a celebrity wedding we're talking about).
But the most beautiful thing, if you ask us, was the maid of honor – their one year old baby girl Ezer Billie White. And the matching jackets they made – it's a tight competition. Hiding her beautiful, delicate wedding dress, the bride and groom wore matching jackets reading "till death" with their nicknames for each other – "Billie + Buddy." Tying the knot in the Beverly Hills courthouse isn't too original, though, as this is where thousands of celebrities get hitched, and though the wedding was intimate (and secretive) it was nonetheless beautiful (as the pictures show), which is why they received the honorable fourth place on our list.
3. Angelina Pivarnick and Chris Larangeira
It seems as if reality stars don't have real lives of their own, except for the ones demonstrated on T.V, but that's not the case. This year, Jersey Shore star Angelina Pivarnick married her sweetheart Chris Larangeira in a wedding you can only describe as a wedding from the movies. The bride walked down the aisle in a dramatic off the shoulder white dress and a matching tiara, the accompany the setting which looked like a castle (are there any old castles in New Jersey?)
The couple has a long history, as they started out by being childhood friends before they started dating. Thus, the bride shared that before tying the knot, they decided to attend a few sessions of couples counseling, which according to her was a great blessing to their relationship. On the big day, the bride and groom were accompanied by her good old friends from her days at Jersey Shore, including co-stars Nicole "Snooki" Polizzi, Jenny "JWoww" Farley and Deena Cortese. You can bet that is was one happy wedding!
2. Michael Ray and Carly Pearce
Seems like this year was the year of country music – and of course, we mean romantically. Michael Ray and Carly Pearce are only one example of two country music singers who tied the knot earlier this year. The young country singers are both rather at the beginning of their musical journey, and a few months ago, they embarked on a new journey together: that of husband and wife. And as you can expect of country singers, they chose to tie the knot in Nashville, Tennessee.
Although the wedding hadn't exactly been what they had planned, it was everything they have asked for and more. The venue was a 19th century mansion, and while they planned on having a romantic, outdoors wedding, Mother Nature had plans of her own, and they were forced to have the ceremony inside due to heavy rain. However, it was still incredibly romantic. Carly's wedding gown, designed by Samantha Sleeper, was a combination of modern and vintage style, which made for a unique dress that fitted the bride perfectly.
1. Trace Adkins and Victoria Pratt
Country music sensation and actor Trace Adkins is here to show us that love knows no age. After three failed marriages, at the age of 57, this year he married Canadian actress Victoria Pratt, and we wish the couple the best pf luck! Judging by his previous marriages, the singer doesn't seem to have good luck when it comes to relationships; his marriages didn't end on the best of terms, especially his marriage to his second wife, Julie, which ended in a dramatic domestic dispute during which she shot him! Hopefully this marriage won't end this way.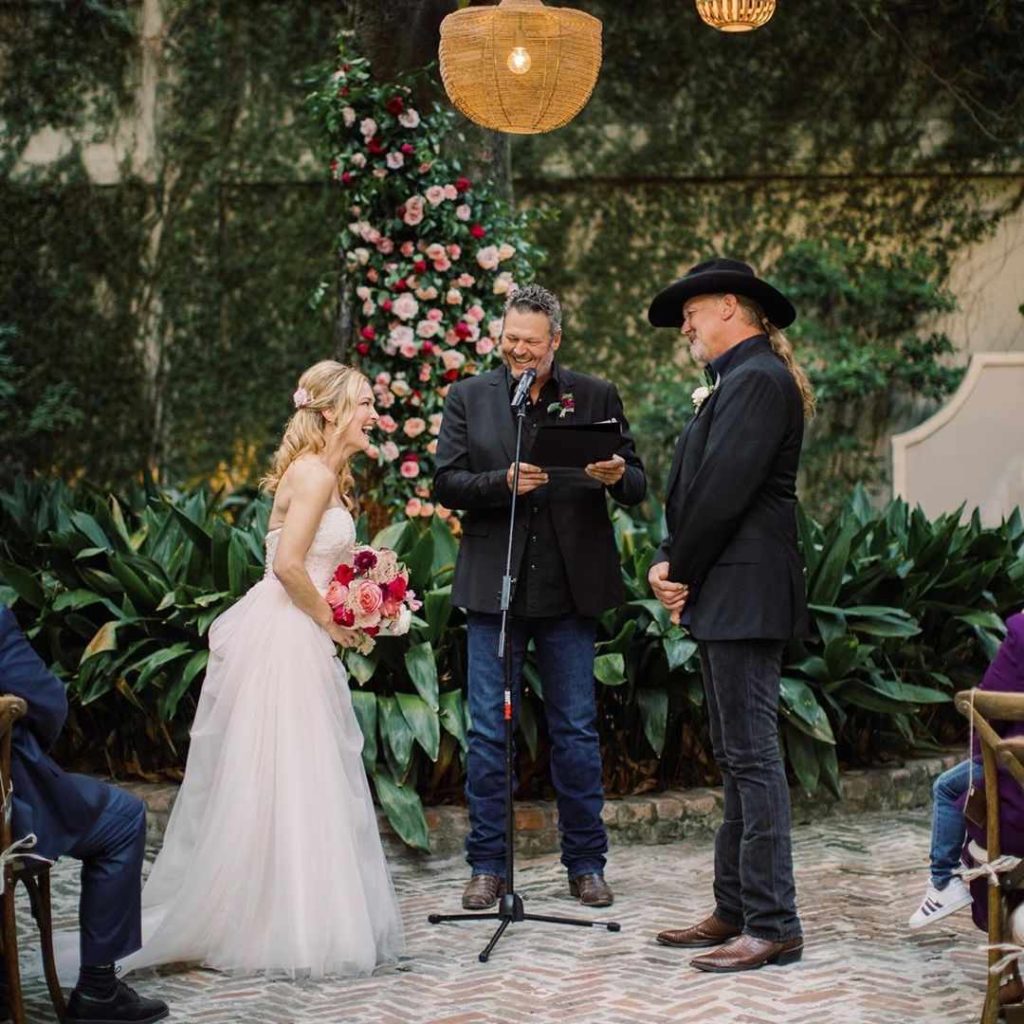 Judging by the lovely wedding they had, though, seems like this marriage is the real deal, and we can only hope that after being married three times, when a man marries his fourth wife, it means this time it's a sure thing. Perhaps the most interesting fact about the wedding is that it was officiated by friend and fellow country star Blake Shelton. Apparently, having friends officiate your ceremony is more common than we thought! The groom, as appropriate for a real country star, wore a cowboy hat to the ceremony (got to stay in character at all times!) and the 48-year-old bride wore a delicate, yet impressive pink-blush gown.