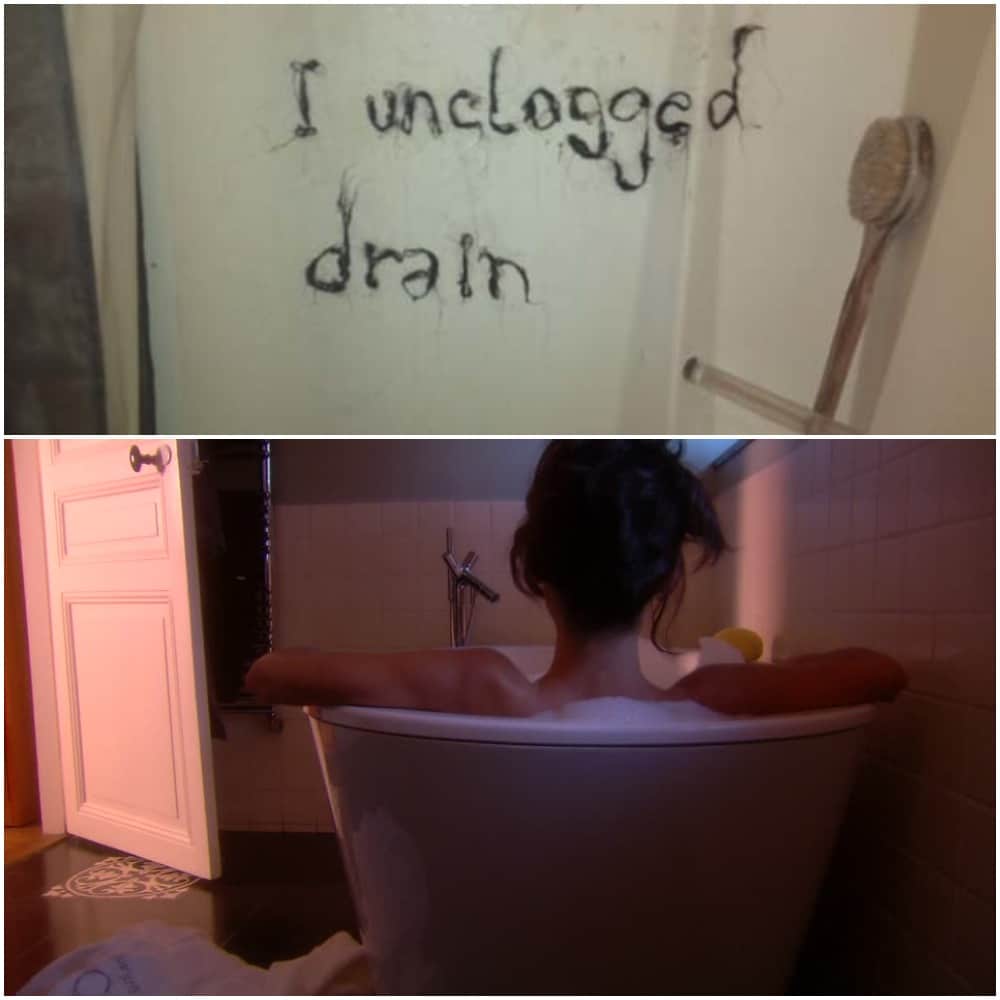 We've all created them and we've all been victims of passive-aggressive notes, since sometimes that's the only way of handling an irritating or otherwise awkward situations. Leaving notes or writing down your feelings can be a lot easier when it comes to inconsiderate neighbors, people who blocked you in the driveway, annoying co-workers (you know the one I'm talking about, don't you?) or any person you don't want to confront face to face. Some people use these passive-aggressive notes as a way to express their disapproval, and judging by these hilarious notes, other people just use them to have some fun.
Out of line
We've all been caught in a similar situation, when we can't find a parking space since someone is taking up two spaces simply because they couldn't make the extra effort of parking inside the lines; we can all relate to the feelings of frustration and anger – anger at the world, at ourselves, and mostly at this person who doesn't know how to park properly, or just doesn't care enough.
There are different methods for handling such a situation, and people choose to handle it differently: while some people just can't control their anger, and they vandalize the car in one way or another, other people handle the situation passive-aggressively. While this is probably not as strong a statement as trashing their car, it gets the message across, and it's a more civilized way to tell someone you're displeased about his parking.
Too bad
Leaving a note of this kid is the dream of every tired parent, every frustrated roommate and every partner in the world who's had enough of coming home to a dirty sink. "Dishes don't do themselves" – how many times have you heard this sentence growing up? Now, finally, this mother came up with an innovative way to get her message across. But how great would it be if dishes did wash themselves?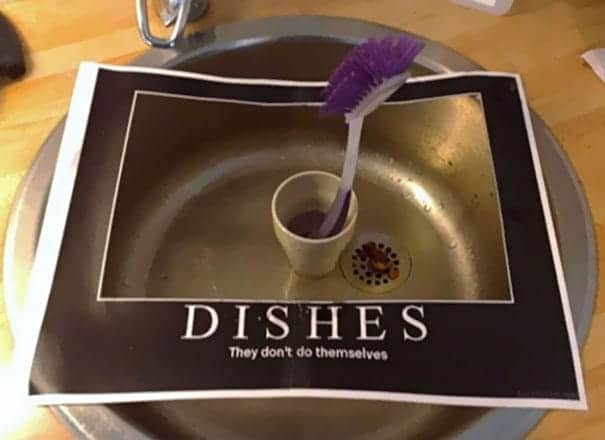 In the meanwhile, though, we still live in a world where they don't, and so this parent/colleague/roommate decided to use the proven passive-aggressive method to get their very reasonable desire. If you try this at home yourselves, please report back with results!
Strange thing
The strange trend of labeling people's foods in the office was born out of a real, pressing need, and we can't help but think of Ross Geller and his special Thanksgiving turkey sandwich that was mistakenly eaten by another co-worker and caused him to have a nervous breakdown. Anyone who works at an office and had something similar happen to him can probably relate.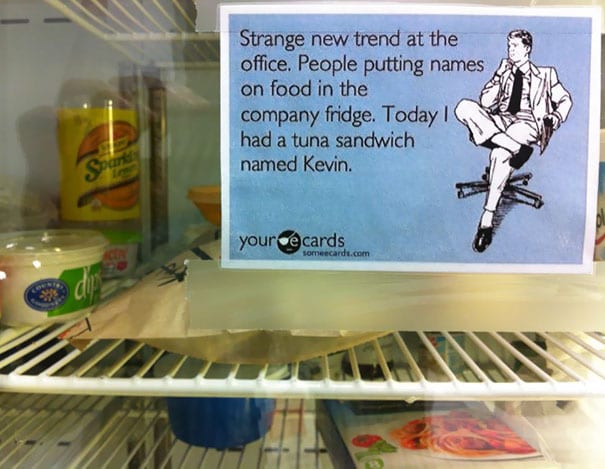 Perhaps it's time to neglect this food-labeling method, since it doesn't seem to work too well; people keep eating other people's foods, and it doesn't seem as if putting on passive-aggressive notes for these food thieves is of any help. Perhaps we're being too negative, but it seems as if the answer is to stop bringing lunch boxes to work altogether.
No luck
We all know this guy who's regular way of communication with the world is through jokes, because why take anything seriously if you can make a joke out of it? It's nice to see that he takes everything lightly – even his lack of success in the cruel dating scene. Every office could use a guy like this, don't you think?
While we admire the self-humor, the person who put up the first note might not find it as amusing that people are making fun of his request. After all, if it's come to dating food cans, they must have a lot of wasted food in that office, and someone was trying to get ahead of the problem, only to have a colleague make fun of his note.
Is there a Debbie here?
This refrigerator is the embodiment of passive-aggressive. This is the opposite of labeling your food – someone took it to the next level and decided to straight out say who's food this is not. This Debbie must be a real issue around the office if someone thought it right to accuse her of being the food thief. This method might seem bold, but perhaps that's what it takes if you want to put an end to food stealing around the office.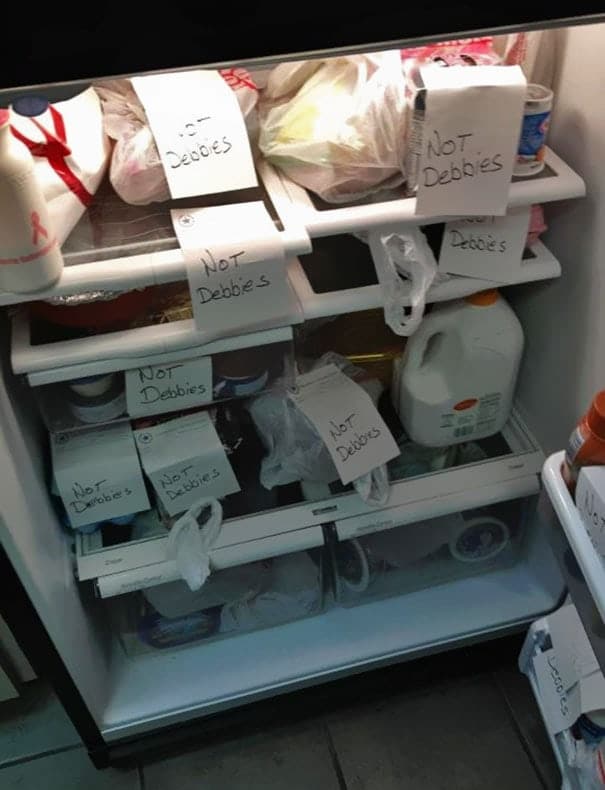 Instead of writing these cute little notes or knock knock jokes about who's sandwich this is, just say who it doesn't belong to. Now we know there's no way Debbie is going to touch any of this, but who's to say about other people? After all, they didn't say who's food this is.
And Milk
This person didn't want to confront the problem head on and say these people can't clean after themselves, so he found a funny and creative way to do so – putting it on the grocery list. But much like patience, and unlike milk, I don't think this is something you can get at the store.
Adding the milk to the list, though it seems as if it was added by someone else, helps drive the point home. It emphasizes the passive-aggressive tone of the request and makes it more casual, and if you ask us – more convincing. Obviously, adults know how to clean up after themselves, and if they don't – it's a choice. Hopefully this note will touch at least one person in the office.
Makes sense
This is classic passive-aggressive: push it harder, it'll work better. Obviously, people know that pushing the printer harder won't make it work better, we all know it deep in our hearts, but for some reason, our intuitive reaction when something doesn't work properly is pushing harder, beating it or otherwise using force, partly to take out our frustration.
Although we've all heard countless times from our parents that using force is never the answer (even when it comes to printers which just won't print), it's our instinct to push the buttons harder. This person had enough of people abusing the printer, and he decided to try and put some sense into them – and what better way to do so than being passive-aggressive? You must admit, this is a pretty convincing note.
Jobs, Steve Jobs
I bet everyone in the office found this funny except for the person who printed the first sign. And the iconic smug look of Steve Jobs complements the prank perfectly – they couldn't have asked for a better smile than the smug Steve Jobs smile. When you think about it, the person who put up this sign kind of asked for it.
When you work in an office surrounded by sarcastic people, putting up a sign like this is risky business, and whoever thought of putting up Steve Jobs is probably the evil genius of the office. This really couldn't have been avoided, but as least, I'm sure, it provided people in this office some laughs, which we can all use during long days of work.
Diet coke
This person thought he was smart, using this photo as a way to make people feel self-conscious about stealing his diet coke, and he probably never expected anyone to use this against him! Trying to use religion to guilt people from touching your drink is not a bad idea, but you have to know your texts if you want to pull off something like this.
He sure didn't expect this to turn out the way it did, and his co-worker who put up the scriptures knows what he's doing – perhaps this isn't his first time stealing beverages from a co-worker. Either way, he only won the battle, not the war, and perhaps next time he'll know what kind of person he's dealing with and come up with a better strategy.
Really?
Really, really? This is yet another passive-aggressive method of telling people – wash your dishes! When a co-worker doesn't wash his dishes the sink can become quite a mess, and that's not the kind of work environment anybody wants to be a part of.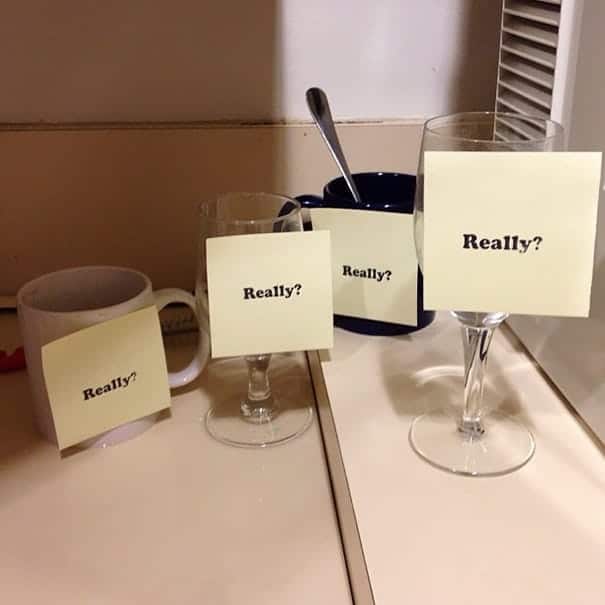 Looking at this photo, I can hear the judgmental tone of the person who put up these sticky notes on the misplaced dishes, saying "really, you're just going to leave it there?" Sometimes, as in this case, for example, you don't need long speeches to express your feelings, but just one simple word can be more than enough to get the message across.
Why, indeed
This person has a point – what's the point of having two microwaves if you can't use them simultaneously? Might as well have one. Putting up this sign is the kind of nonsensical behavior we all have to face from time to time in our work place, so why not try and put some sense into them?
Sometimes, it almost seems as if logic doesn't have a place in the office, and that's why these passive-aggressive notes are so necessary – trying to put some sense into people, without confronting anyone.
We're Jamming
Someone put a lot of thought into this printer sign, which raises some questions, but we can't think of that right now, because we want to take a minute and appreciate this humor! Great, now I'm going to be humming this song for the rest of the week.
This is a creative way to inform co-workers the printer doesn't work, as it's ought to put a smile on people's faces. The only question left is what printer did they use to print out this colorful sign, if the printer doesn't work?
Might as well
You know this person who always corrects everybody's grammar? Sure you do, we all know this person. Well, trying to be smart and putting up signs of this kind is never a good idea when you're dealing with such a person, because you can be sure he'll have something to say about it.
Well, Carolyn, did you expect him to sit quietly while he's being accused of such a hideous crime of letting the microwave beep? He put back a fight, and we appreciate that. Working in an office or any environment that you share with other people has it's challenges, and this is just one of them.
My mug
How do you respond to passive-aggressive notes around the office? Do the opposite of what they ask for, naturally. Next time, instead of trying to imply something passive-aggressively, just say what you want to say, or better yet – keep your mug at your desk! That's the only way to assure no one's going to use it.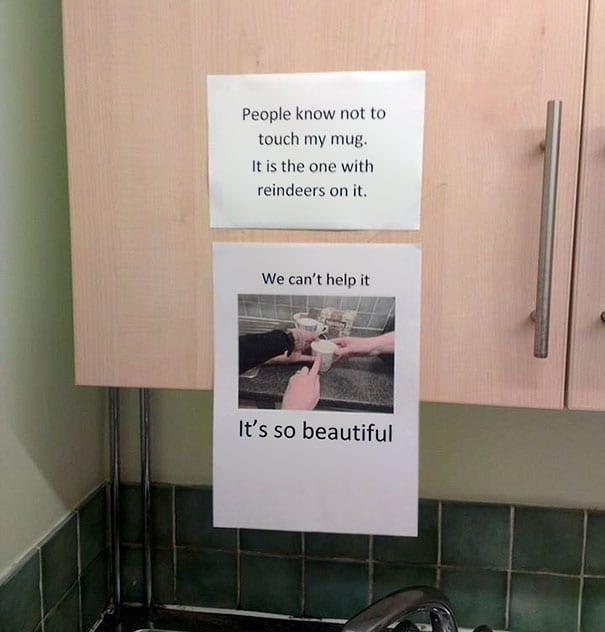 Putting up this sign was really asking for it, because we all know that when people are forbidden from touching something, it only makes them want to touch it badly – like museum exhibits. That's just the way it is, and there's no point trying to stop it.
For your information
For some reason, throughout history, washing the dishes has always been the father's job. But one father decided he had enough, he's no longer willing to function as the household dishwasher, he decided to turn against this rule of nature, and for this important cause – he adopted the passive-aggressive method. This father found a creative way of saying he's sick of washing everybody's dishes.
Sadly, I doubt it if this sign would be of any help; some things you can't change. It's always been the man of the house who's supposed to wash the dishes, and no sign, no matter how funny, would change that. Fathers buy dishwashers thinking this would take some of their load off, but eventually, they always end up sitting empty, taking up space in the kitchen.
None taken
This isn't much of a passive-aggressive note, as this neighbor just goes out and calls it like it is; this is one creepy van, and I wouldn't like to see a mysterious van of this size parked in front of my house any time of day, let alone at night time. We can't blame this neighbor for putting up this note, and hopefully, his kind attitude and honesty would help.
If Hollywood has taught us anything, it's that large, white vans are always bad news. Whenever something bad is about to go down in a movie, there's almost always a white, large van involved. There's either someone sitting in it spying on you, waiting to abduct you, or it's something even worse.
Good call
When someone tries to attack you with passive-aggressive behavior, there's nothing you can do but play along. Much like with the diet-coke bandit, this person thought he's found the perfect way to tell people to change the toilet paper, but obviously, he had no idea who he was dealing with. Some people are determined like that, and they will do anything in their power not to change the toilet paper.
And writing his witty response on the toilet paper is like putting the nail in the coffin, saying – I have no intention of changing the toilet paper, and I'm so confident, I don't mind wasting it. While being passive-aggressive works on some people, it's important to remember it doesn't work on everyone, and so sometimes it's better to go ahead and say what you want to say without trying to be smart about it.
Went too far?
Someone in this office seems to be upset about his co-worker taking up too much space in the refrigerator with his out-of-proportion gallon of milk, and he decided to do something about it. Once again, he probably didn't expect this response – taking his words too seriously and putting a cow inside the fridge.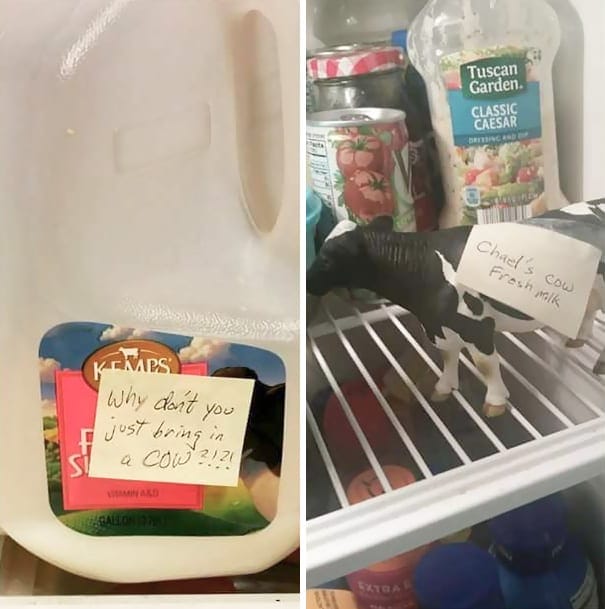 Obviously, this passive-aggressive note was meant as a joke, commenting on the size of this milk gallon without having to say the words, but once again someone took his co-worker's passive-aggressive behavior a step too far and decided to make a joke out of it. On the other hand, this cow takes up a lot less space in the fridge, so the mission was accomplished.
The forbidden microwave
You don't have to be so dramatic about it; "do not use under any circumstances ever"? Isn't that a tad too dramatic? I can understand why this sign would make anyone want to use this microwave more than ever. But joking aside, this very realistic illustration he added to the sign didn't slip our attention, and we must say this person is incredibly talented.
This sign only makes us wonder what could possibly happen if you use this microwave, and what could be so terrible that would make someone put up a such a dramatic sign? And if it's really that dangerous, why keep the microwave there? Why not throw it out?
Did you watch GOT last night?
One of the most popular conversation topics in any office is the latest T.V shows and films. Naturally, since Game of Thrones was one of the biggest sensations in the entertainment industry for the past few years, it was part of almost every office conversation, especially when the much-anticipated final season finally aired.
If you're one of those weird people who didn't like the show (although it's hard to believe these people really exist), the best way to try and avoid the tedious question "did you watch last night's episode?" and having to deal with these conversations over and over, is to put up a sign. Although this person decided to be straight forward and simply say what he wants to say – don't talk about GOT with me or anywhere near me.
Let it go, let it go
…Can't hold it back anymore. The song goes, "let it go, let it go, can't hold it back anymore," (come on, we all know the lyrics), and this person certainly couldn't hold it in anymore. As we said, when a new blockbuster comes to theaters, it's all everyone in the office can talk about, and Frozen has certainly been one of those blockbusters who got children and adults alike hooked.
Even people who didn't watch the animated movie couldn't avoid hearing this song played everywhere or hummed by people around, and so, somehow, we all know how the chorus goes. And you must admit – even if you're not a fan of the movie – this is a catchy song, so when one person starts humming it, it's only a matter of time before the entire office is humming the words "let it go, let it go."
The food thief has requests
As if it isn't enough that this person steals other people's foods, now he makes special requests – he's sick of eating the same thing everyday. This must be the most outrageous thing I've seen in a while – and that's his answer to the people complaining about him eating their food!
People have tried everything here – someone chose to be passive-aggressive about this ("my Trader Joe's green juice grew legs and walked off"), while others called it like it is ("please stop eating my hot dogs!!!") but nothing seems to help, and this food thief has the audacity to answer them, asking to bring different food. Things in this office are out of control.
Best cake ever
Leaving the office is always a bitter-sweet departure; on the one hand, you're spreading your wings and moving on to the next big adventure, but on the other hand, you're leaving the place which has been your second home for who knows how long. Some people don't know how to handle goodbyes as well as others, and so this is the result.
When you're saying goodbye to someone you're not ready to part with, or otherwise feel betrayed by this person leaving you (yes, people can get that attached to co-workers), you end up making a passive-aggressive cake. The message might be intimidating, but it's the thought that counts, isn't it?
Aren't we all?
Every person in the office has a "job": the one who steals everybody's food, the one who doesn't watch GOT, the one who constantly hums Frozen tunes, and the philosophical one, asking the harsh questions. While people are busy making it through yet another day, this person wonders about the really meaningful questions of life.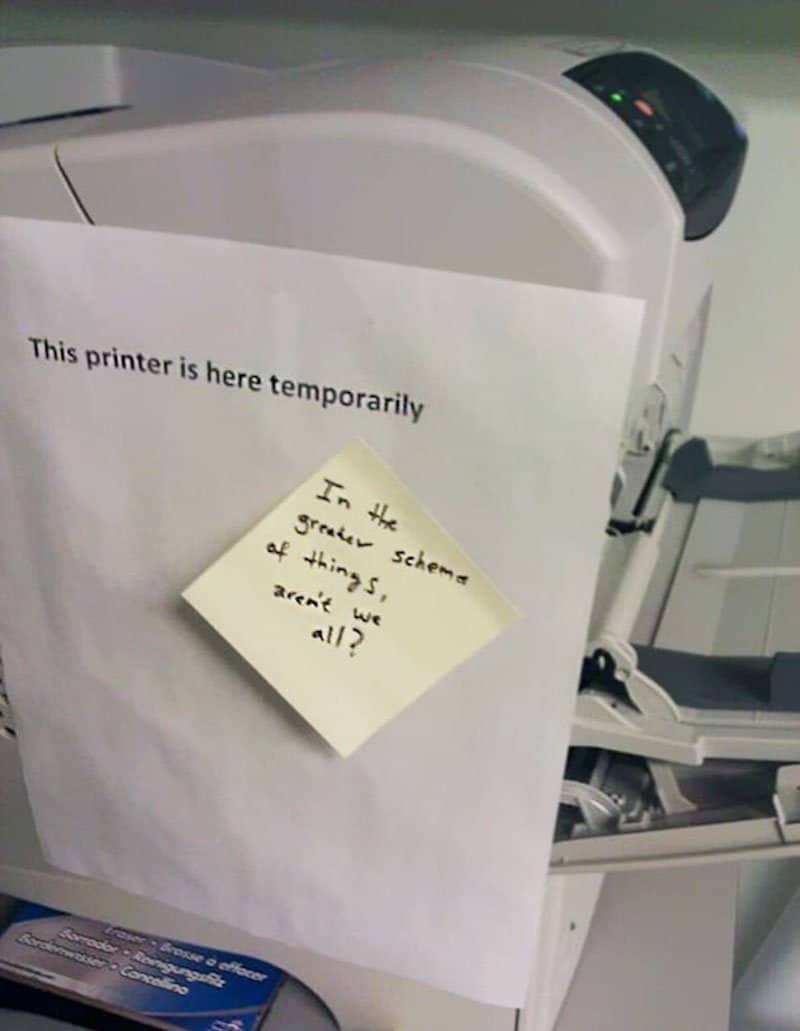 In this case, it can be the person who doesn't take anything seriously. That's why putting on signs around the work place can be dangerous. And besides, signs are a bit outdated, don't you think? Why put up signs if you can send an e-mail or a group message telling everyone to wash their dishes, be gentle on the printer and avoid using the microwave? The year is 2020, people.
Point taken
This is as passive-aggressive as anyone can get. This person took the time to make this long, elaborate note just to inform his inconsiderate neighbor how annoying his new speakers are. The length and thought behind this note makes it hard to ignore, and the only question that remains is whether this self-centered neighbor even understood this passive-aggressive note, or whether he thinks this is a genuine compliment on his amazing new speakers?
While it's hard to miss the sarcastic tone as you go on reading line after line, if this person was selfish enough to use his speakers in the middle of the night, who knows what more he's capable of? At least they gave it their best shot at being passive-aggressive, before they go on shouting and yelling.
Have the cake
Who says you can't have the cake and leave it full? This person proved them wrong – he can have the cake, and he can be passive-aggressive about it. But joking aside, this is a pretty scary warning – "I do what I want" – and it seems as if nothing is beyond him, not even ruining the office cake.
Every office has this one guy who goes against the norms, the rebel, if you will. But this one is on whoever left the cake sitting outside; you don't let the cat watch the cream, like you don't leave out a cake sitting unattended at an office where you know there's a food thief who's out of control.
Ketchup
No one likes to work at an office that smells like ketchup, we can all relate to that, but I'm sorry, this is not being passive-aggressive, rather straight out telling people to throw away their stinky left-overs. The answer, though, is priceless. Smelly, but priceless. The ketchup-eating person probably didn't appreciate this note one bit.
If they sent out an e-mail instead of putting up a sign, no one would've been able to answer them with ketchup, forcing them to take down the sign. Just saying. It's the year 2020, people, we've said it once and we'll say it again – let's be environmental, stop wasting paper and start sending out emails. Don't worry, you can be passive-aggressive online as well.
Instructions
Programmers are so focused on their job, can you blame them for jumping up at every sound? I'm sure this necessary, though somewhat offensive, sign was written after too many interruptions to the holy work of the programmers, but is it really necessary to make them out as caged animals in a zoo?
The most curious thing about this curious sign, though, is the incident that they mention; what kind of incident? What happened the last time someone knocked loudly on the door? Then again, I'm not sure I want to know the answer. Just like the sign warning against using the microwave at all costs – sometimes it's better to leave these things unanswered.
Who won?
It seems as if the purple note just wanted to be a part of this entertaining office feud, although he doesn't really want to take any side. Unless the purple sticky note jumped in, this could have gone on forever, and really, it's the first sign that started it all – why contradict yourself?
Why put up a sign saying no thumbtacks, using thumbtacks? The person who called him out, as annoying as he might be, has a good point. One way or another, as pointless as this notes-argument seems to be, at least we get to enjoy it.
Dishes and boyfriends
If you thought co-workers can be creative when it comes to passive-aggressive behavior, you've seen nothing. Sharing a flat with another person (or a few other people) is never easy, and it can involve a lot of complications when you don't set down some ground rules. That's why, in such situations, passive-aggressive notes come in handy.
This sign gets the message across without having to accuse her roommate of anything specific, maintaining peace around the house. Adding the little winky face at the end was the perfect touch, because while the humor is clear, and she found the absolute most gentle way of saying what she wants to say, it's never a bad idea to add a winky face.
Spoiled milk
How do people come up with these things, who are these people, and how come they don't anything with their talent? If this list has taught us anything, it's that while trying to be passive-aggressive with your co-worker doesn't always work, it's always funny to see how people react to it.
Once again it seems as if the answer is right in front of us – stop putting up signs and start sending out e-mails. Not only would it make our lives a whole lot easier, but that way, people can't respond passive-aggressively (or can they?)
Parking skills
This is classic passive-aggressive behavior, while obviously what they're trying to say is – learn how to park! There must be something better we can do about these people who don't know how to park, or just won't learn, because leaving these signs, as funny as it is, doesn't seem to be of too much help.
I'm sure the person received the message, and perhaps it made him feel guilty for a second, but next time he'll go on parking as he always does, because some people simply don't seem to care. Still, leaving these notes can't hurt, and perhaps it's a way of venting some that very justified anger.
Home alone
That's what happens when you're trying to be smart about it. Next time, just ask your roommate to change the toilet paper, instead of being passive-aggressive about it. Or better yet, don't change it, and wait to find out how long it takes before your roommate finally caves! It's not that we encourage this kind of behavior, but we're obviously dealing with someone resilient here.
As we've seen before, some people aren't affected by passive-aggressive behavior – they just make fun of it. Nonetheless, this is a pretty funny response, although he clearly said the house should be in the form of a trash can.
Nice spelling
This passive-aggressive sign trying to eliminate sarcasm from the workplace almost seems like a bait for sarcastic people! How can this go unnoticed? This unfortunate mistake, that isn't necessarily a spelling mistake, but an innocent typo, is like a field day for sarcastic people, trying to keep the sarcastic fire kindled.
Putting up a sign like this was risky to begin with, and if you already did, it's better to double-check those four words, because the last thing you need is for someone sarcastic to see this mistake. One way or another, at least we can enjoy the entertaining outcome.
Admiration
What more can we say? Bad drivers have always been and always will be a huge nuisance for us all, especially when it comes to parking. We all know the feeling of distress and helplessness when we can't find a parking space, and sometimes the best way to handle our anger is by being passive-aggressive.
This is one of the best passive-aggressive signs we've seen in a while, and it's proof that even when people are upset, they can keep their cool and come up with these clever messages. Next time you're in a similar situation, try putting this note on the car that's taking up two spaces.
Neighborly behavior
Pun intended! We all love dogs, but we don't necessarily appreciate cleaning up after them, especially when it isn't our responsibility. Picking up after your dog is basic decency, but when some people don't see that, there's nothing else we can do but be passive-aggressive about it!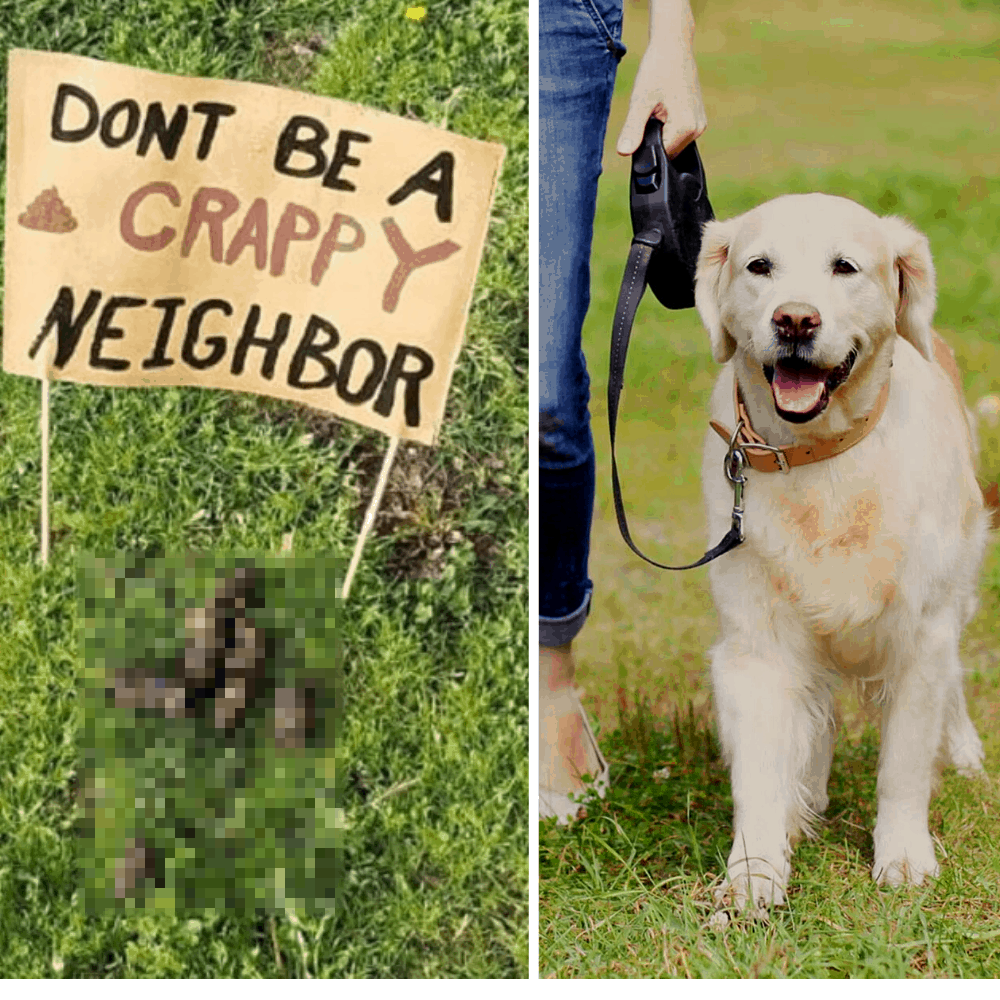 The passive-aggressive notes are handy because they allow you to say what you want without actually saying anything wrong, and they're also hilarious. Of course, the world would be a much better place if a sign like this wasn't necessary to begin with, but given that people don't have the decency to pick up after their dog, might as well be funny about it.
Drink up
Sometimes being passive-aggressive works – people get the message, and it speaks louder than shouting or yelling or expressing emotions – since some people react better to humor. Other times, people take it too literally and the joke is on you. I'm not sure who's being more passive-aggressive here, I want to say it's Dave – but which one?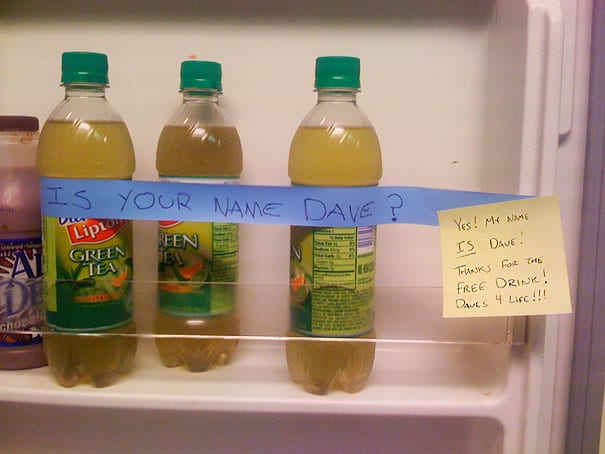 Clearly, this person was trying to say the beverage belongs exclusively to Dave (yet another creative sign to keep away office food thieves), but he didn't consider that there might be another Dave in the office. That's why knowing all your peers is important – not for social gatherings and friendship, but to make sure your passive-aggressiveness works as intended.
Check
You don't have to take everything so literally, Susan. It probably started out with one person who thought he was being funny (and what can we say, he was right) and it created an endless snowball reaction, because everyone wants to get in on the fun.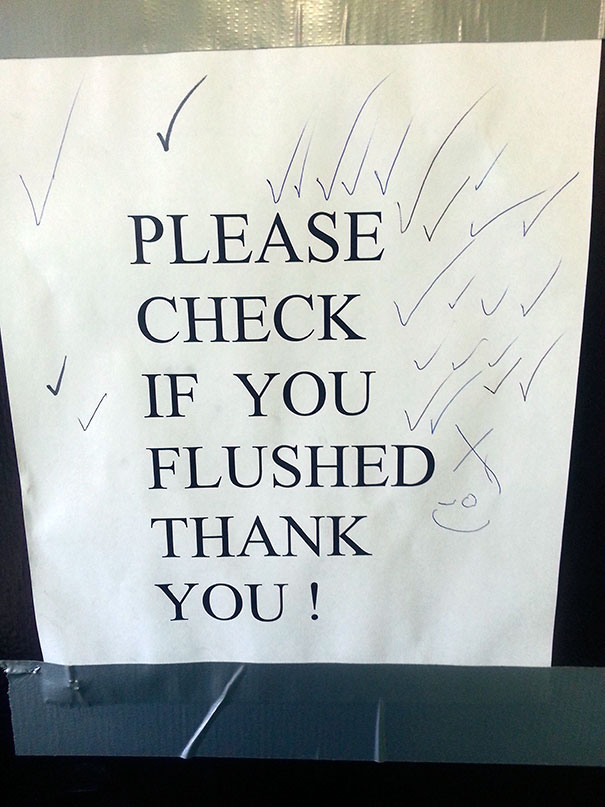 We only have one question, or two: why did someone marked an X, and even more baffling, what's the winky face supposed to mean? Did they or did they not flush? Even when the sign isn't being passive-aggressive, it doesn't mean you can't be!
Being neighborly
Neighbors can be useful when you need to borrow a cup of sugar or an egg, but they can also be quite a nuisance, especially when they live right above you and they seem to walk around the apartment wearing cement shoes. We've all had neighbors that are inconsiderate like that, whether they're making constant noise or otherwise being selfish. This right here is one way to handle them:
When you don't know your upstairs neighbors too well and you're hesitant about approaching them, there's always the option of putting up passive-aggressive signs. You don't have to say the neighbors are inconsiderate, all you do is mention what their favorite pair of shoes is (= you're too noisy!) and it's bound to do the trick.
The dishes strike again
Living with roommates can be complicated, but so does living with your significant other. This girl found the perfect way to tell her boyfriend to do the dishes without actually having to say it and risk getting into an ugly argument over who's job it is to do the dishes (it's clearly the man's job, that's already settled).
You can't ignore a note that starts this way – you have to read all the way through – and so this note is bound to get her boyfriend's attention. What did we do before we knew that being passive-aggressive works and that we don't have to express our feelings?
Spot on
Personally, I find the sign with the turtle illustration and coloring inside the lines example more persuading, but this is the same kind of passive-aggressive behavior people often use when commenting about someone who won't take the time to park properly (to put it nicely).
People can get very creative when it comes to passive-aggressive messages, bot you must admit this is one of the most creative passive-aggressive signs anyone has ever made. With so many words, it definitely gets the message across – don't park selfishly, don't take up more than one spot, get your own spot.
The revenge of the ketchup
We all know the frustrating feeling of waiting for your food for what feels like hours (when you're hungry, even fifteen minutes feel like hours), and it gets even more frustrating when you wait in a restaurant and you don't even get the chance to order since no one pays any attention to you.
So these people did what we all dream of doing but don't have the courage, and gave the waiting staff a piece of their mind, in the form of ketchup and mustard. They don't need to say they're upset, the ketchup says it for them!
Fonts
We all know better than to use Comic Sans in formal letters, notes or anything that is work-related (or not work-related, because this is the worst font). But it seems as if this person didn't get the memo that Comic Sans is not an appropriate font to use unless you're a middle school student selling lemonade over the summer to make some extra pocket money.
Does he really expect to be taken seriously when he uses this font? Closing doors can be a real issue in offices for people who have a hard time keeping their concentration, especially when other people around them won't stop talking about GOT or humming Frozen tunes. We understand the value of this sign, but if you want to be taken seriously, next time pick a better font.
Fixage
You know how in an office, any office, it takes months to get something repaired? Well, someone in this office had enough of it. But instead of shouting at someone, taking out their frustration, they put up this sign, that really couldn't have been worded better.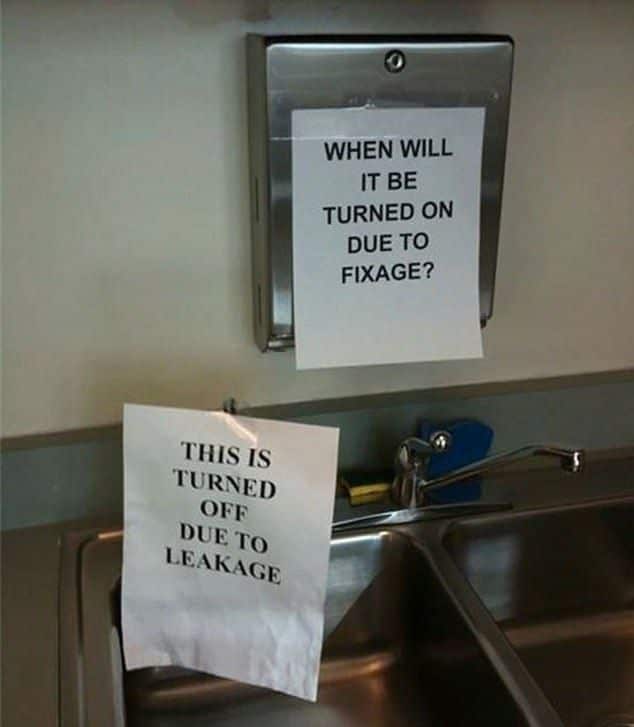 Without being nasty, shouting or yelling, this person was simply trying to inquire when will the sink be fixed. These office signs make us laugh every time and they inspire us to put up some signs in the office next time something happens to our dismay.
Isn't it, though?
All mothers out there can relate to this one. Fortnite has taken over the world of gaming like plague, and for us adults it's hard to see what kids see in this game and understand why they spend so many hours on the computer playing this game. Instead of telling this to her kid everyday, this mother decided to take the passive-aggressive approach.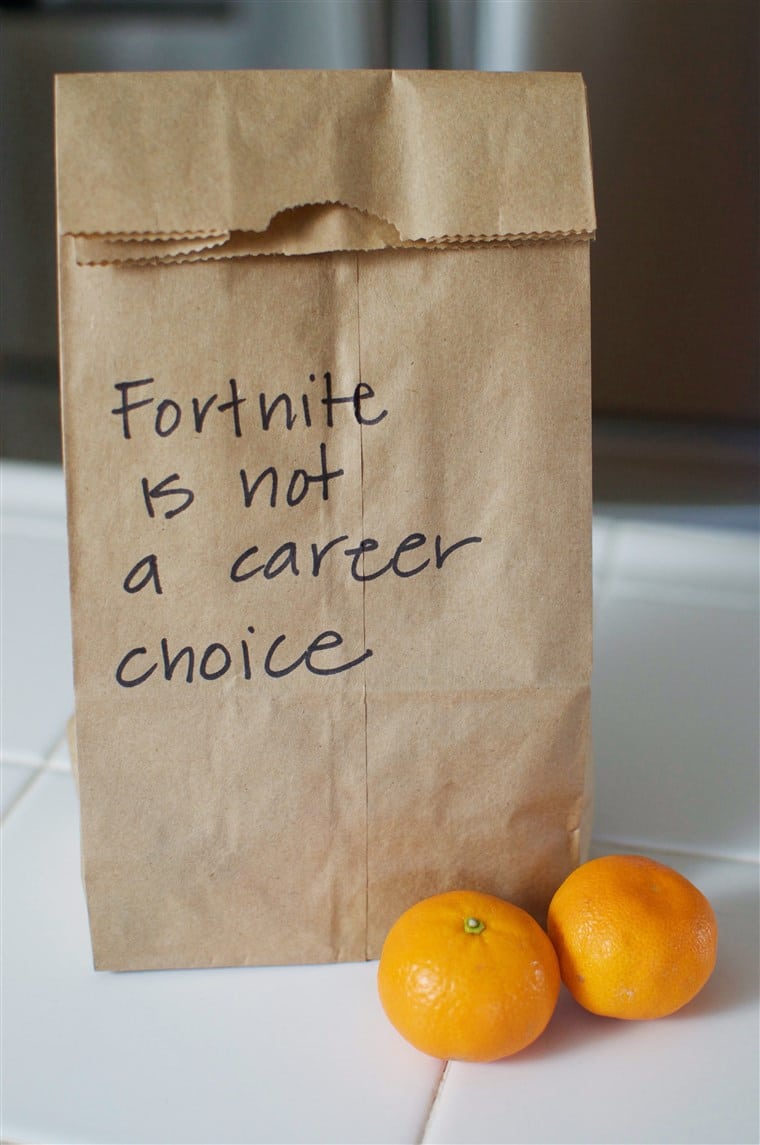 Instead of reproaching her kid, she's making a statement and putting it somewhere it can't be missed – on her kid's lunch. When you think about it, it's the perfect plan, because this way, he can't argue with her.
Call me, maybe?
Did they mean this is crazy because they never do this, or this is crazy because it's crazy to have someone regularly block your driveway? Either way, quoting from pop-songs is never a bad idea if you want to add some class to your notes.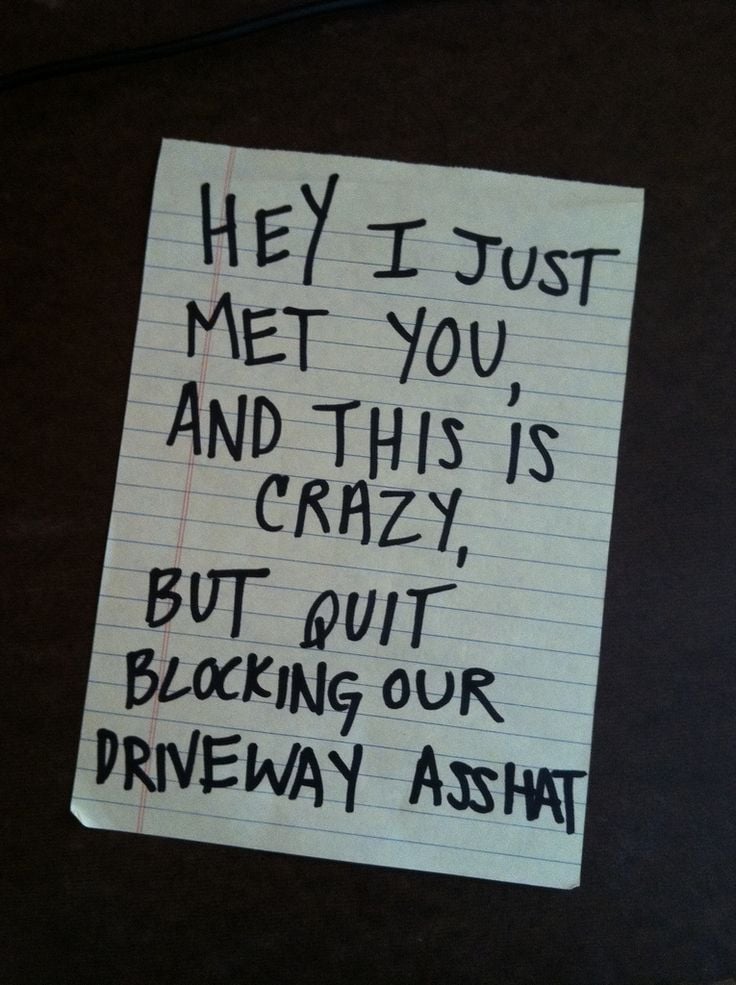 However, unlike some of the passive-aggressive notes we've seen before, it doesn't seem like they are trying to hard to keep it classy and sophisticated, rather, it seems as if they're sick of having this guy blocking their driveway.
Looking out for Rusty
We all love it when a co-worker brings his dog to work and our furry friends are always welcomed in any office; but as cute and fun as it can be, it also creates somewhat of an inconvenience around the office, and that's when signs of this kind start to appear around the office.
We get why they don't want Rusty to get out, since dogs are always at flight-risk, but we're not sure we understand the addition to the sign – who's Jay? Is he the person working in this office? Why not let him out? This is not really much of a passive-aggressive request, but it's one of those funny signs you can only see at work places.
Alarmed
Office signs of all kinds are always amusing, whether it's a co-worker being passive-aggressive, trying to tell his peers their behavior is unacceptable, or just someone who's bored of his work and puts up random signs!
As we've seen before, people can get pretty creative when it comes to signs, perhaps because it provides them with a comic break from their tedious jobs, and the result is always entertaining. Take this note, for example – this person took the time to look up the perfect expression of what an alarmed door would look like only to perfect his prank.