It's no secret that celebrities have a soft spot for tattoos, and usually, the bigger the better. However, although it might seem as if most celebrities get inked just to get attention, most of them have meaningful tattoos that symbolize life-changing moments, significant roles and beloved people (or pets), and as it turns out, almost every celebrity out there has at least one tattoo (and some have over 50). We gathered the best celebrity tattoos out there, to give you some in(k)spiration.
Emilia Clarke
We're all familiar with Emilia Clarke from her legendary role as Daenerys Targaryen, also known by her full name, Daenerys Stormborn of the House Targaryen, First of Her Name, the Unburnt, Queen of the Andals and the First Men, Khaleesi of the Great Grass Sea, Breaker of Chains, and Mother of Dragons.
As GOT fans know, out of all these impressive titles, the most important one was undoubtedly "mother of dragons." That's why, in 2018, the Game of Thrones star received a new ink featuring her three dragons, Drogon, Rhaegal, and Viserion. The actress has two other tattoos, her first one also a tribute to a role – a bumblebee tattoo, as a symbol of her role as Louisa Clarke in the drama Me Before You.
Angelina Jolie
It seems as if actress Angelina Jolie has gone under the radar in the past couple of years, but there was a time when she was making headlines, mostly surrounding her controversial love life. You might have forgotten by now (although her tattoo never truly lets us forget), but in 2000, Jolie was married to actor Billy Bob Thornton.
The Hollywood couple was quite controversial, and not nearly as idolized as Brangelina – the nickname Jolie and Brad Pitt received while they were married. Jolie and Thornton didn't try to hide their love, on the contrary – the actress even got a tattoo of her husband's name and a Chinese dragon underneath (they were very popular in the beginning of the 2000's). Naturally, after the two separated, she had the tattoo removed, and later covered it with a new one, since it couldn't be removed completely.
Justin Bieber
We've lost count of how many tattoos singer Justin Bieber has, and it wouldn't surprise us if he'd lost count as well. Who can keep track of so many tattoos? It's safe to say the teen idol is a long-time fan of ink art (as is his wife, supermodel Hailey Baldwin), and he doesn't regret even one of his many tattoos.
For us, one recent tattoo particularly stands out, partly thanks to its unique location, and partly thanks to the inspiring message behind it. The singer got his upper thigh "Better at 70" tattoo in 2017, and he shared his latest ink on Instagram, explaining that there's always room to be better. Looking back on his mistakes, this tattoo represents the message that you can always do better, it's never too late to change and be your best possible self.
Miley Cyrus
Turns out it's not uncommon for celebrities to permanently ink their pets on their body. It's no secret that Miley Cyrus is a long-time fan of tattoos – one glance at the singer can tell you that – and three of her tattoos are dedicated to her dogs. The first dog tattoo she received was the face of her late dog, Floyd, with a talking bubble saying, "with a little help from my fwiends," located underneath her armpit.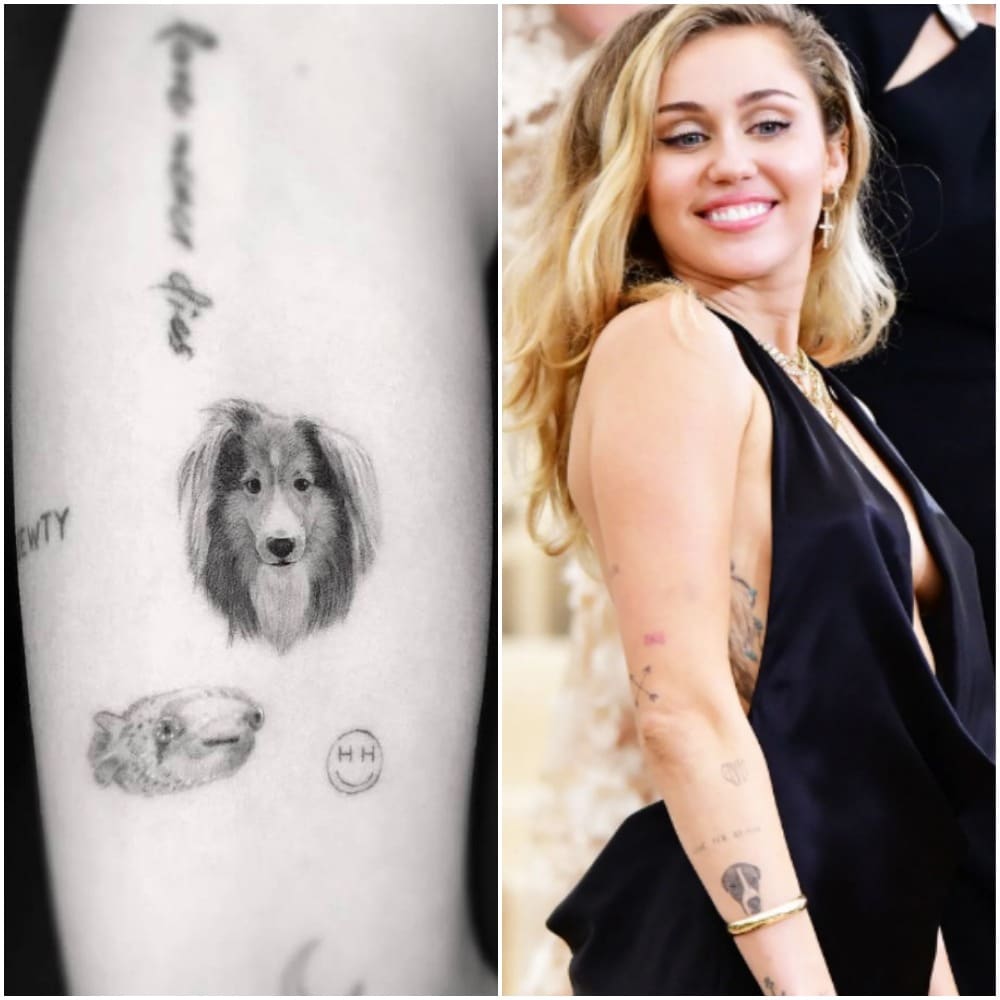 After her dog Floyd passed away, the singer adopted a sheepdog named Emu. Three years later, she received a permanent drawing of Emu on her arm, next to a drawing of her deceased fish, Pablow. The singer has over twenty tattoos covering her body, some of them tiny and others quite large, so it's no surprise she should have tattoos dedicated to her beloved pets.
Lady Gaga
Lady Gaga started her way as a bar singer in New York, and she's made quite an impressive journey to the top and established a name for herself in the music industry and in Hollywood. Throughout this journey (and way before it started), Gaga received quite a lot of tattoos, to commemorate those special moments along the way.
She has the famous trumpet tattoo – a tribute to jazz music legend Tony Bennett, and she has several tattoos representing her singing career, such as her "Mother Monster" tattoo (how could the dedicated mother monster not have a "mother monster" tattoo?). Another tattoo reflecting her career is the Haus tattoo, above the mouse drawing dedicated to her sister. Haus of Gaga is the name of the singer's creative team – the people responsible for her memorable outfits and unique (albeit controversial) image.
Demi Lovato
Much like Miley Cyrus, Lady Gaga and other singers, Demi Lovato is no stranger to tattoos. The singer has around 30 designs all over her body, and while most of them are rather small and subtle, one tattoo stands out – that would be the giant lion face on her hand that's pretty hard to miss.
While the singer never explained what stands behind this tattoo, it's not hard to guess: Lovato is a firm believer in strength and empowerment, as many of her songs reveal. She sees herself as a fighter and encourages her fans to do the same. The singer also has a song titled "Lionheart," and if that isn't enough, her zodiac sign is Leo.
Sophie Turner
While it seems as if most celebrity tattoos are whimsical, that isn't the case with Game of Thrones star Sophie Turner (well, most of the time). As much as we loved her on screen, The Queen of the North seems like a boring character compared to the actress in real life – we don't know her personally, unfortunately, but we feel as if each one of her tattoos reveals something about her personality.
The actress has 13 tattoos (and counting), and according to her, all but one – which was made just for fun – represent something, or someone, in her life. Three tattoos are dedicated to her meaningful breakthrough role as Sansa Stark, and three of them are representations of her family. The pinkie finger tattoo of the letter "g" was dedicated to her grandfather (a fun anecdote: her husband, Joe Jonas, also has a tattoo in honor of his grandfather).
Justin Bieber
We've already seen that Justin Bieber has one tattoo with an added meaning, and that's not his only one. The latest addition to his body art collection was a set of laurel leaves around his neck. The singer never revealed the meaning behind this tattoo, but allow us to take an educated guess: the Greco-Roman symbol is often associated with victory, and this takes us back to the message of his "Better At 70" tattoo.
The laurel leaves might represent his victory over his failures, and how despite his mistakes, he keeps looking forward. This echos his new docuseries, released earlier this year, where he examines the trials, accusations and tribulations that he's been through since embarking on his career.
Miley Curys
We've seen how the Wrecking Ball singer gets sentimental with her tattoos, and this is yet another example. In 2016, Miley Cyrus was dating Australian actor Liam Hemsworth (which later became her husband and then her ex-husband). It's not uncommon for couples to get matching tattoos, and Miley decided to ink her body with a sweet tribute to her then-boyfriend.
She didn't ink his name or his face – that's too tacky – but a drawing of the notorious Australian condiment, and Hemsworth's favorite spread, Vegemite. Evidently, the actor has a similar tattoo on his leg. Although the couple is already divorced, Miley isn't looking to get rid of this tattoo, as it's a reminder of an important period of her life, and an even more important relationship.
Jessica Alba
Actress Jessica Alba has a number of tattoos, but unlike other celebrities, she doesn't like to talk about them. One of the first tattoos she received was the Sanskrit word for "lotus," a flower that represents spiritual beauty. In 2016, during her appearance on The Late Show with Stephen Colbert, the actress revealed the reason for getting this tattoo.
Alba admitted she had just broken up with her boyfriend (who happens to be a celebrity, but she refused to reveal his name), and she got this urge to get a tattoo, partly as a rebellious act, since the guy was anti-tattoos. According to her, she felt as if she had rediscovered herself after this breakup, and that's what the lotus stands for.
Megan Fox
Transformers actress Megan Fox has several tattoos, but perhaps her most famous one – the one she flaunts at red carpet events with open-back dresses – is her Shakespeare quote. The quote, inspired by the famous play King Lear, reads, "We will all laugh at Gilded Butterflies," in Victorian Gothic letters.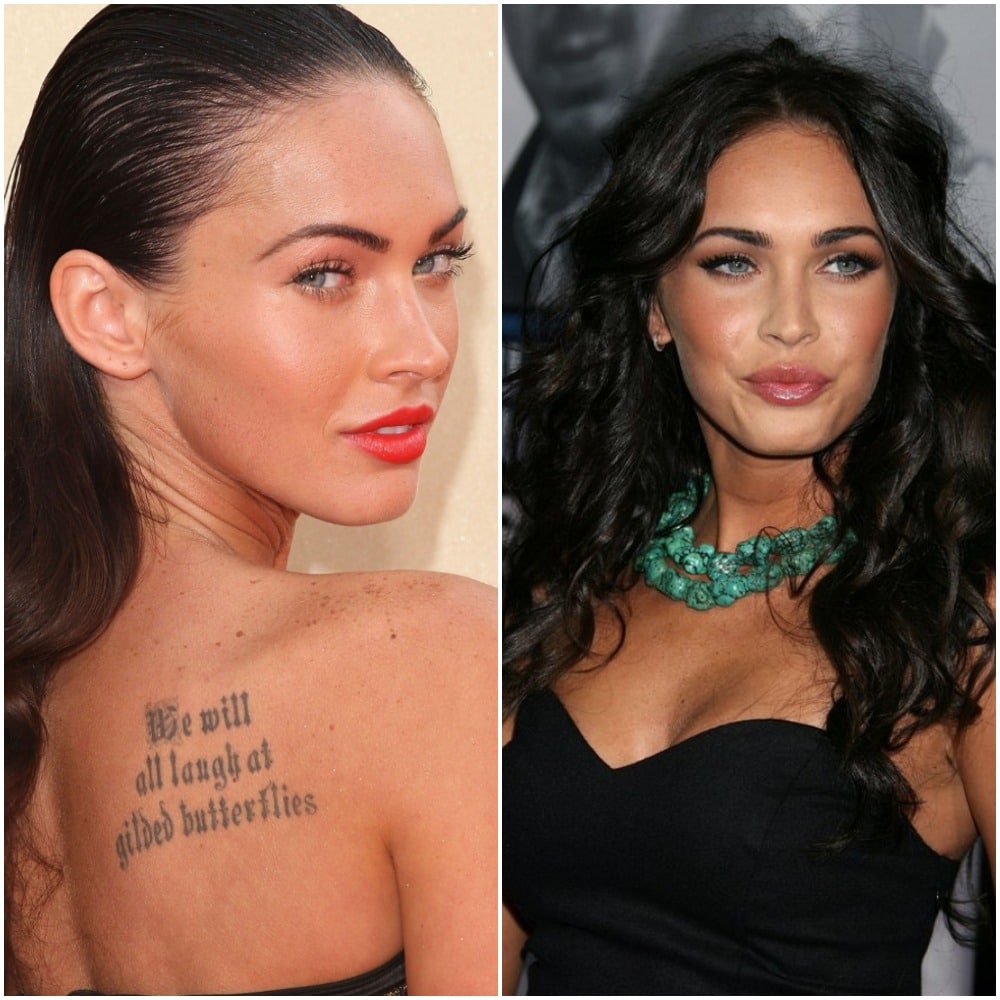 Evidently, this quote reflects Fox's attitude towards life. The actress has changed the original quote, which reads, "so we'll live, And pray, and sing, and tell old tales, and laugh At gilded butterflies." What the quote means, for those of you who need to catch up on your Shakespeare, is that wrapping something in gold doesn't make it golden, but only gives it a false appearance, destroying its original beauty.
Lady Gaga
Lady Gaga makes another appearance on this list, since she has so many tattoos, and all of them deserve to be mentioned. As we said earlier, Lady Gaga fell in love with tattoos before she was a big star, and her body art comprises a big part of her personality. Following the 2016 Grammy Awards, Gaga added a new ink to her collection – a tribute to David Bowie, one of her all-time favorite artists.
Bowie was an inspiration to Gaga and many others, and she received this tattoo just in time to perform one of his songs on the stage of the 2016 Grammys, where the music legend posthumously received a Lifetime Achievement Award. The tattoo artist responsible for this portrait is Mark Mahoney, a celebrity-favorite.
Cara Delevingne
Supermodel and actress Cara Delevingne is known for her multiple tattoos, one of them done by her Suicide Squad co-star and good friend, Margot Robbie. She has a tattoo that reads "Bacon," and an elephant tattoo, but arguably her most eye-catching piece of body art are the eyes on the back of her neck.
One of the model's recent tattoos is a set of eyes on her neck. Delevingne is renowned for her tattoo collection, and you can now see why. You can tell these eyes have a profound meaning to them; the actress believes in seeing the world from different perspectives, to better understand one another, and that's what those eyes stand for.
Hailey Baldwin
While Hailey Baldwin's collection of tattoos doesn't even come close to her husband's, she has an impressive number of tattoos all over her body, most of them tiny and subtle. The model picked an interesting date to get her diamond tattoo: the 2019 Oscars. Baldwin skipped the her red carpet appearance to get inked, and we think it was worth it.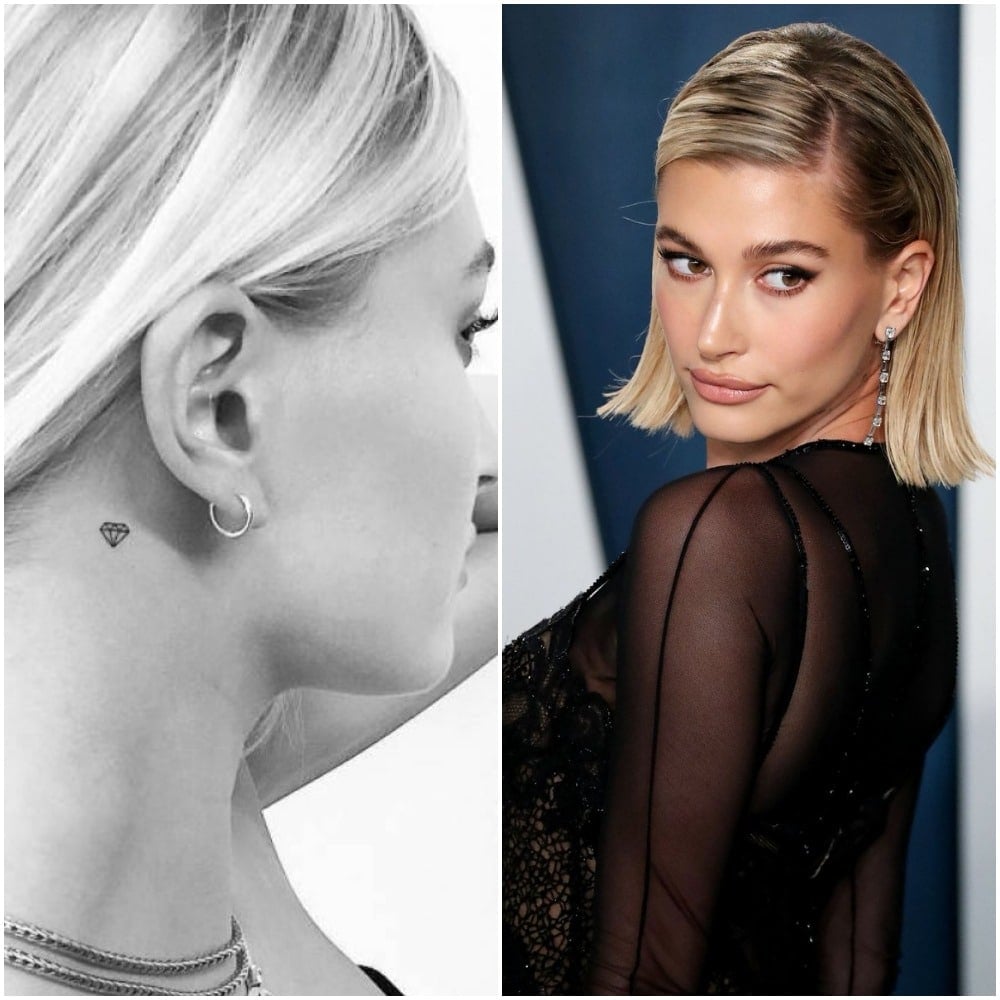 The star received most of her tattoos at one of New York's most popular tattoo parlors – JonBoy, which is known as New York's celebrity parlor (where all the celebrities come to get inked, and never leave disappointed). This tattoo bears a resemblance to Justin Bieber's diamond tattoo (yes, he has one of those as well), so this might be a tribute to her husband.
Lena Dunham
Girls star Lena Dunham is as controversial as her character on the popular show. She isn't afraid to speak her mind, and she doesn't care what people think of her, which some fans appreciate, and others resent. Things were no different when the actress revealed her new body art – a tattoo on the back of her head with the word "sick."
The actress has been coping with a chronic illness for some time now, and this tattoo is evidently a homage to her illness and an attempt to embrace it. We feel as if the rope design of the letters symbolizes the ropes of the illness that won't let go, but that's just our interpretation. Comments were controversial, from people applauding her courage, to people saying this tattoo is reducing the person behind the disease.
Zac Efron
We've said that not all celebrity tattoos are silly and whimsical, and most of them represent profound messages, but Zac Efron's iconic "Yolo" tattoo belongs to the first category. You probably remember there was a time during the early 2010's when Yolo was the motto to live by; "you only live once," was a call to action for all young and reckless people out there, in need of an excuse to be reckless.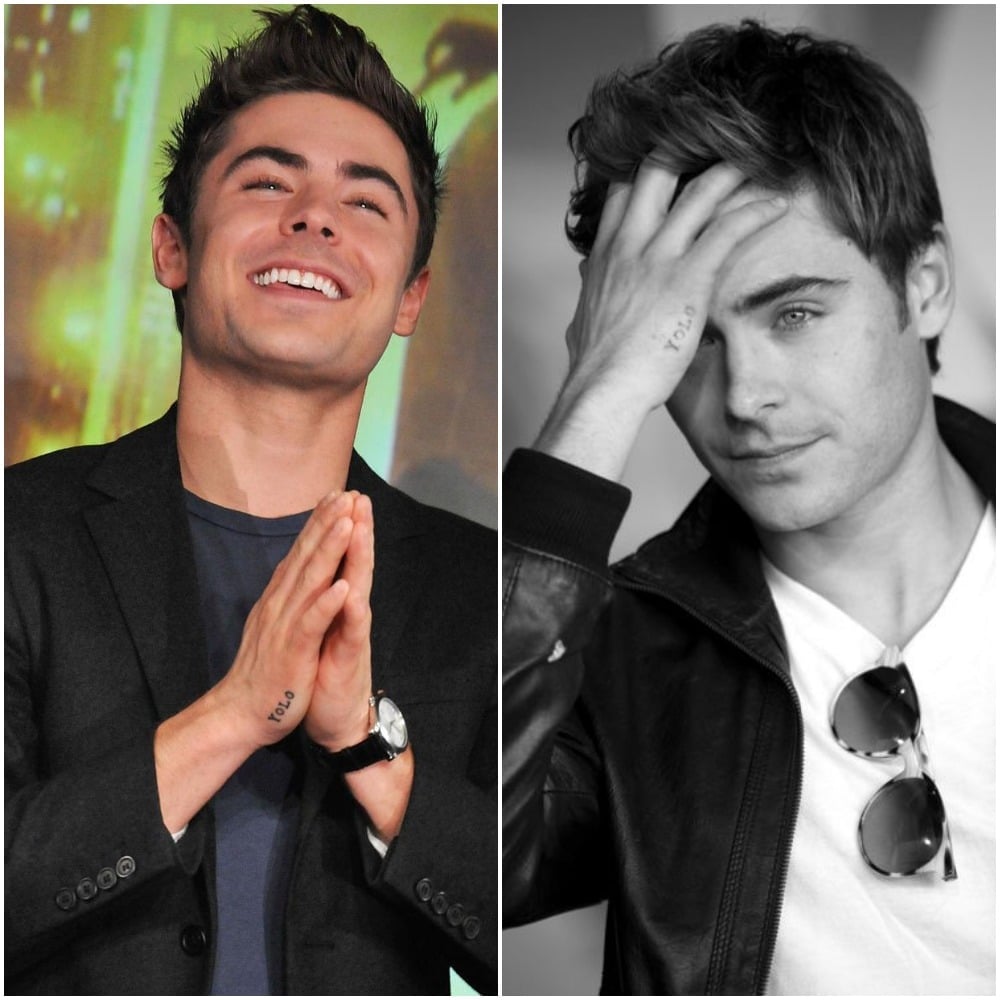 In 2011, in an incredibly whimsical move – just as the motto dictates – actor Zac Efron inked "Yolo" on his hand. The motto, of course, has no special meaning for him, he just went along with the trend and took it a step too far. It took him a few years, but the actor finally realized his embarrassing mistake, and decided to have the tattoo removed. However, this blunder will always be tattooed in our minds.
Paris Jackson
Paris Jackson, daughter of the music legend Michael Jackson, is a big believer in tattoos: she sees her 50+ tattoos as a form of art and and a way of expressing her feelings. The model recently received one of her most intricate tattoos; the seven Chakras running down the length of her chest represent spiritual energy points.
At least three of the model's tattoos are dedicated to her late father; she has the cover of her father's famous album "Dangerous" inked on her arm – including her father's eyes and iconic curl, as well as tattoos of her father's nicknames for her, "Applehead," on her foot and "Queen of My Heart" on her wrist.
Scarlett Johansson
Scarlett Johansson is a diverse actress, and so are her tattoos; currently, she has eight of them (a relatively small number for a celebrity) and she's quite secretive about their meaning. One of her oldest tattoos is a drawing of a lamb on her back, which is now out-shined by her more recent back tattoo – a huge vine of roses the actress flaunts on every red carpet event.
Evidently, the roses represent the actress' four-year old daughter, Rose, whom she had with her ex-husband, Romain Dauriac. Unlike this tattoo, which is rather obvious, fans are still in the dark about her lamb tattoo. Lambs often symbolize innocence, but we're not sure about the meaning behind this piece of body art.
Chiara Ferragni
Italian blogger, fashion entrepreneur and influencer has a unique sense of style that's put her on the map as a fashionista, and this includes her 27+ unique tattoos. The fashion blogger has become in recent years one of the biggest celebrities in Italy and around the world, and she shares photos of her life, her style, her husband and her two-year old son on social media on a daily basis.
Her tattoos often catch her fan's attention, and for good reason; she has plenty of them, in varied sizes and locations. We can't discuss all of them, but we'll mention the important ones, starting with the iconic eye: the blinking eyes are the iconic symbol of her clothing and shoe line, The Chiara Ferragni Collection; she has the face of her beloved dog, Matilda (who's also an Instagram star), a Micky Mouse taking a selfie, and a mother lion and a cub lion on her upper arm.
Kendall Jenner
Although the Kardashian sisters are extravagant and controversial, one thing they don't approve of is tattoos. Kim Kardashian once said that getting permanent ink on your body was like ruining a perfectly good car, or something along those lines. However, that's not how all Kardashian sisters feel about tattoos.
Kendall and Kylie Jenner have some interesting tattoos, in interesting places, but perhaps their big sister's words affected them, since both of their tattoos are extremely small and almost hidden. The model has a tiny, white dot tattoo on her finger, and another tattoo inside her bottom lip, that reads "meow." Kendall admitted to getting the second one while she was under the influence of booze.
Chrissy Teigen
If you follow Chrissy Teigen on social media, you already know that she puts her role as a mother first. Before identifying as a model or a TV host, Teigen identifies as a mother. That's why her most recent tattoo is incredibly fitting for her. On her forearm, the model has the birth dates of her family: her parents, her children, Luna and Miles and her husband, singer John Legend.
The model also has a couple's tattoo she got with her husband, and after getting this first tattoo, it seemed as if it has opened her thirst for more. She jokingly said her tattoos make her a "cool mom," and that's how she refers to herself today (did anyone else get the Mean Girls reference – "I'm not a regular mom, I'm a cool mom!" No? Is it just us?)
Hilary Duff
Personally, Hilary Duff's tattoo is among the least favorite on our list, but maybe we just don't get it. The Younger actress received her "Take Fountain" tattoo in 2017. Confused? So were we, but the words "take fountain" have a secret, humorous meaning for the actress. It isn't as profound as other tattoos on the list, but who said tattoos must have a profound meaning?
If you're a fan of Bette Davis, you might be familiar with this quote. On an interview with Johnny Carson, The Tonight Show host asked Davis what was the best way to break into Hollywood (not metaphorically, but driving from L.A), and the actress' advice was, "take Fountain," referring to Fountain Avenue in Hollywood. Duff's wrist tattoo is a homage to this brilliant advice.
Kaley Cuoco
The Big Bang Theory star Kaley Cuoco shares something with her character on the show: a tattoo she regrets (you might remember how Sheldon asked Penny why she has the Chinese character for 'soup' on her shoulder). Between the years 2013-2016, the actress was married to professional tennis player Ryan Sweeting.
As an expression of their love, the actress got a tattoo of roman numerals that represent the date of their wedding. However, the couple had separated three years later, and the actress later met her soul mate and one true love, Karl Cook. Instead of having her tattoo removed, Cuoco decided to cover it with a moth tattoo, because that one the only option big enough to cover the first one.
Angelina Jolie
This is the same spot where Angelina Jolie used to have a tattoo of a Chinese dragon and the name of her ex-husband, Billy Bob. After removing these old tattoos, the actress decided to cover the area with a fresh one, and by that putting her past completely behind her and turning the page. Her new tattoo is something she'd never want to forget: her children.
The new ink on her arm is the geographical coordinates of her children's birthplaces. Jolie has six children, three of them adopted. After she removed her notorious Billy Bob tattoo, the actress said she'd never repeat the mistake of tattooing a name on her body, so instead, her ink stands for the birthplace of every one of her children. She later added a seventh coordinate – that of her now ex-husband, actor Brad Pitt.
Joe Jonas
Joe Jonas – the lead singer of the Jonas Brothers and DNCE, the shy-looking one – has as many as 20 tattoos on his arms. However, they're all minimal – just how we like it – so it's easy to miss them. We've learned his wife, Sophie Turner, is a big fan of tattoos, and we don't know whether the singer received his fondness for ink from his wife or whether it was there all along, but there's one thing we do know – we're obsessed with his tattoos.
The rope knot was one of the first tattoos he got, and it represents his parents – the two ropes – and his siblings – the four ends. He added the woman tattoo beneath the knot in 2018, when he was engaged to actress Sophie Turner, and fans immediately speculated the tattoo has something to do with his wife. However, to their dismay, he admitted this wasn't a portrait of his wife, but a random drawing by his tattoo artist, Curt Montgomery.
Sophie Turner
This is another one of Turner's unique tattoos, located on her thigh. If you think this tattoo is similar to the one her husband has, you're not alone. The actress received this tattoo the same year her husband received his mysterious woman tattoo, and it was done by the same tattoo artist, Curt Montgomery (Sophie's regular tattooist).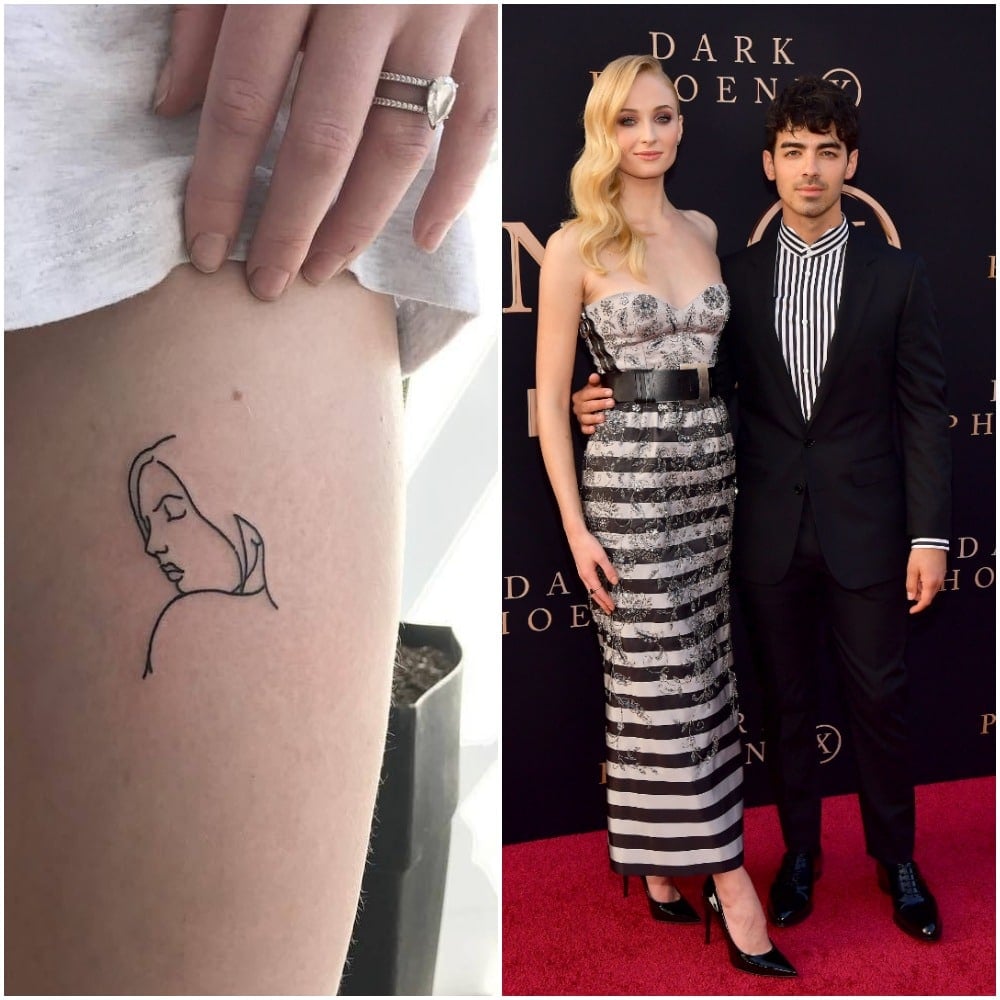 Although fans still want to believe that both of their tattoos are portraits of Sansa Stark – Sophie's GOT character – Turner and Jonas insist their tattoos have no special meaning (or else they want to keep this special meaning a secret), and that this isn't a portrait of Sophie or a homage to Sophie's character.
Hailey Baldwin
This roman numerals tattoo was Hailey's first tattoo, the one that started her journey with one of York's biggest celebrity tattoo artists, JonBoy. He once said that Hailey is the reason why he later worked with celebrities such as Justin Bieber and Kendall and Kylie Jenner, and that Hailey is one of his favorite clients.
The roman numerals represent her parents' wedding date, a significant date by all opinions. This isn't the only tattoo that has to do with her family. The model also has her family name, "Baldwin" inked on the inside of her finger. Hailey and her cousin Ireland (Alec Baldwin's daughter) received this tattoo together at JonBoy's studio.
Miley Cyrus
We couldn't cover all of Miley's tattoos even if we wanted, since she has too many of them – she even has a tattoo on her feet (and let's be honest, she'd probably want us to forget some of them), but this one deserves to be mentioned. The singer has a "be kind" tattoo on her hands – "BE" on her right hand and "KIND" on her left hand.
Miley added this message to her ink collection in 2017, and shared it on social media, with the message "don't forget to be kind to all." You might know that the singer identifies herself as pansexual, or "gender-blind," and she supports gay rights and multiple other social equality causes. This might be part of her meaning behind her tattoo.
Cara Delevingne
Suicide Squad actress Cara Delevingne has an impressive squad of tattoos covering her body. In 2016, before the blockbuster Suicide Squad premiered, the actress debuted a new tattoo which she received from the one and only celebrity tattooist in L.A – Dr. Woo. This elegant, dainty elephant is the fourth animal tattoo in the model's ever-growing collection.
The model also has a famous lion on her finger (a symbol of power and strength), a white dove (a symbol of piece) and a wasp tattoo (we're not sure what this one symbolizes). Dr. Woo is responsible for most of these tattoos, as he is the go-to artist for the model (and plenty of other celebrities, when in L.A.).
Jennifer Aniston
If you were thinking award-winning actress Jennifer Aniston doesn't look like the type of person that has tattoos, you were right, but only partly. The Friends star has two small tattoos, at relatively hidden spots, which she doesn't like to talk about. The first tattoo she got was a tribute to her late dog, Norman – his name inked on her foot.
The actress loves dogs and has always considered her pets as her family, and so after her beloved Welsh corgi-terrier mix passed away, she got this tattoo in his memory. The actress is said to have another small tattoo on her wrist, but she often has it covered with makeup or bracelets, and so fans have never gotten a good glimpse of the mysterious ink. She admitted she wasn't the type to get a tattoo, and that she isn't as wild as her ex-husband, film director Justin Theroux, who is a fan of tattoos.
Rihanna
When we think of tattooed celebrities, Jennifer Aniston doesn't come to mind, but Rihanna certainly does. The acclaimed singer isn't only responsible for some of the best hits of the past years, changing Hollywood's concept of beauty and inspiring us with positive body image messages, but she's also an inspiration when it comes to tattoos.
One tattoo that stands out among the bunch is her camouflage shark tattoo, and it's not only for the unique design, but for the (supposed) meaning behind it. Not long before Rihanna debuted this tattoo in 2016, recording artist Drake shared a photo of the two in the aquarium with a stuffed doll of a camouflage shark. Fans speculated the tattoo, made by NYC artist Bang Bang, is the same shark, in honor of the romantic night the two spent at the aquarium.
Dax Shepard
There seems to be this trend among celebrities to have a tattoo on the wedding ring finger – a more permanent commitment than the actual wedding ring (we're looking at you, Beyonce and Jay Z). Actor and comedian Dax Shepard decided to pay a nice tribute to his wife Kristen Bell, and luckily for him, as he said, her name was something that could fit on his finger.
Actors Dax Shepard and Kristen Bell seem like a match made in heaven – they share a healthy sense of humor, they are both incredibly talented, and both are a little wacky. Instead of wearing a wedding band, after tying the knot with Bell, Shepard decided to ink a bell on his finger. We think this is an incredibly romantic gesture, don't you?
Emma Stone
As far as profound meanings go, actress Emma Stone takes first prize with her wrist tattoo. The actress has a tattoo of bird feet, a blackbird, to be exact, in honor of her mother and the Beatles' song, "Blackbird." The actress shared that Blackbird is her mother's favorite song, and hers as well.
The actress decided to get this tattoo in celebration of the news that her mother had beaten cancer. She wrote to Paul McCartney (who wrote the song together with John Lennon), asking him to draw two bird feet for her, and she got this drawing inked on her wrist.
Demi Lovato
Demi Lovato's "me" tattoo seems narcissistic at first glance, but it actually carries an important message. We've already seen the singer's lion tattoo, which represents strength and courage, and this one, although significantly smaller, holds an even larger meaning.
According to the singer, life's too short not to get the tattoos you want, which is probably why she never hesitates to get inked. In 2019, she had one word inked on the inside of her finger – "me," and shared a photo of her new tattoo with a straightforward message: "you can't love anyone unless you love yourself first."
David Beckham
Justin Bieber and Miley Cyrus have nothing on David Beckham when it comes to tattoos. The soccer legend has over 50 tattoos covering his body (and it's very likely he has over 60, but we've stopped counting). The former soccer star has various tattoo designs, from the names of his children to his wife's name, Victoria, written in Sanskrit (so at not to seem tacky).
A quick anecdote: his wife's name was misspelled, and it reads in English "Vihctoria." Running down the side of his torso, the soccer legend has a Chinese letters tattoo – those were very popular in the early 2000's – that reads, "death and life have pre-determined appointments; riches and honor are from heaven." Apparently, this is a famous philosophical Chinese proverb.
Dakota Johnson
Fifty Shades franchise star Dakota Johnson isn't a typical Hollywood star – she's a very private person and attempts to keep her life away from the spotlight. That's why we don't have a lot of (verified) information about her numerous tattoos, but only speculations. We do know the actress has at least 10 tattoos, in varied locations and sizes.
On her foot, the actress has a quote that reads, Look At The Moon," surrounded by tiny stars. As we said, we're not sure what this means, but unlike some of her other tattoos, which seem to hold a certain meaning, fans speculate she got this one purely for aesthetic reasons. Judging by its faded look, it might be one of the first tattoos Johnson received.
Rihanna
Rihanna has a tattoo collection that wouldn't shame a tattooist, but some of her tattoos are more famous than others. The stars tattoo on her back is one of the singer's most iconic tattoos. It started out as a couple of stars on her neck, which she received in an L.A. tattoo parlor, and later, she added more descending stars at the famous NYC studio, Bang Bang.
Rihanna has another star tattoo, on the inside of her ear, which she got on a whim while hanging out with a childhood friend. The "Shhh…" tattoo on her index finger is another one of the singer's most iconic tattoos, which she shares with several other celebrities, Lindsay Lohan and Lily Allen, to name a couple.
Lea Michele
Lea Michele's coffee cup tattoo seemed to us like another shallow, whimsical hipster tattoo, but it holds a special meaning for the actress. The Glee star inked this cup of coffee on the inside of her finger in 2016 as a tribute to her late grandmother. We've seen stranger gestures than this, wouldn't you say?
According to the actress, her grandmother wasn't a typical grandmother, but a cool one, and she was the one who first allowed Lea to drink coffee, when she was only eight years old. After adding this tattoo to her art collection, the actress shared a photo on Instagram, with the caption, "I lost my beautiful grandma this week.. She wasn't your typical grandma … She never made pie or knit me a sweater. But she was my grandma and I loved her."
Johnny Depp
Johnny Depp is arguably the most diverse actor in Hollywood: he can portray any role perfectly, from a Jack Sparrow to Edward Scissorhands (side note – who is your favorite Johnny Depp character?). Aside from his brilliant acting career, Depp is also known for his versatile tattoo collection.
It's not uncommon for actors to get tattoos that reflect on some of their more meaningful roles, and so it only makes sense that at least one of Depp's 37 tattoos would be a gesture to Jack Sparrow, one of the most memorable characters he ever portrayed. The actor has a sparrow inked on his arm, in honor of his Pirates of the Caribbean character.
Ariana Grande
Singer Ariana Grande is at the top of our list with a number of 52 tattoos (that is, 52 that we know of, there could be more), and she received most of them (37, to be exact) in the past two years. Four of the singer's tattoos were romantic gestures or couple's tattoos she got with her ex-fiance, comedian Pete Davidson, and so she had them altered or covered by other designs.
Her iconic half moon tattoo was one of the first designs the 26-year old singer received, in honor of her album "Dangerous Woman," which was originally supposed to be named "Moonlight." One of her recent tattoos – a small bumblebee behind her ear, is in memory of the 2017 Manchester Arena bombing and its 22 victims. The bumblebee is the city's symbol.
Katy Perry
Recording artist Katy Perry is known for her catchy hits and her cheerful personality. Much like her personality, most of the singer's tattoos are colorful and cartoon-like; for example, she has a smiling strawberry tattooed on her foot, a red and white peppermint on her ankle and Hello Kitty's face on her finger.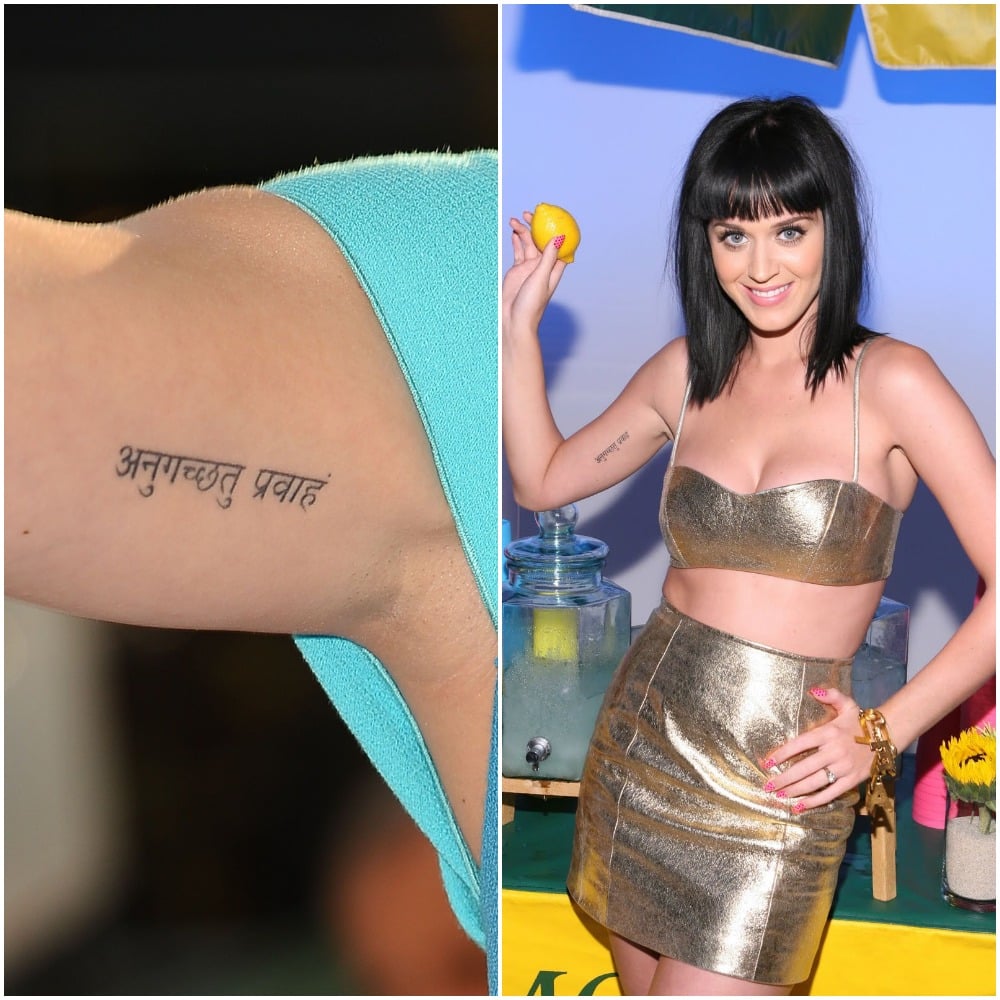 Those are some of her more playful tattoos. The singer also has Sanskrit letters inked on the inside of her bicep, saying, "Go with the Flow." This was a couple's tattoo she got with her ex-husband, Russell Brand, who has a matching tattoo. They received this tattoo after a vacation to India that inspired them to believe in the message.
Ben Affleck
Did you know actor Ben Affleck has a massive (and we mean, massive) back tattoo? Neither did we. For some reason, he doesn't strike us as the tattoo-type, but it turns out he is indeed a tattoo-kind-of-guy. The giant Phoenix rising from the ashes, naturally, generated a big controversy among curious fans (almost as big as the tattoo), and plenty of unwanted comments and attention.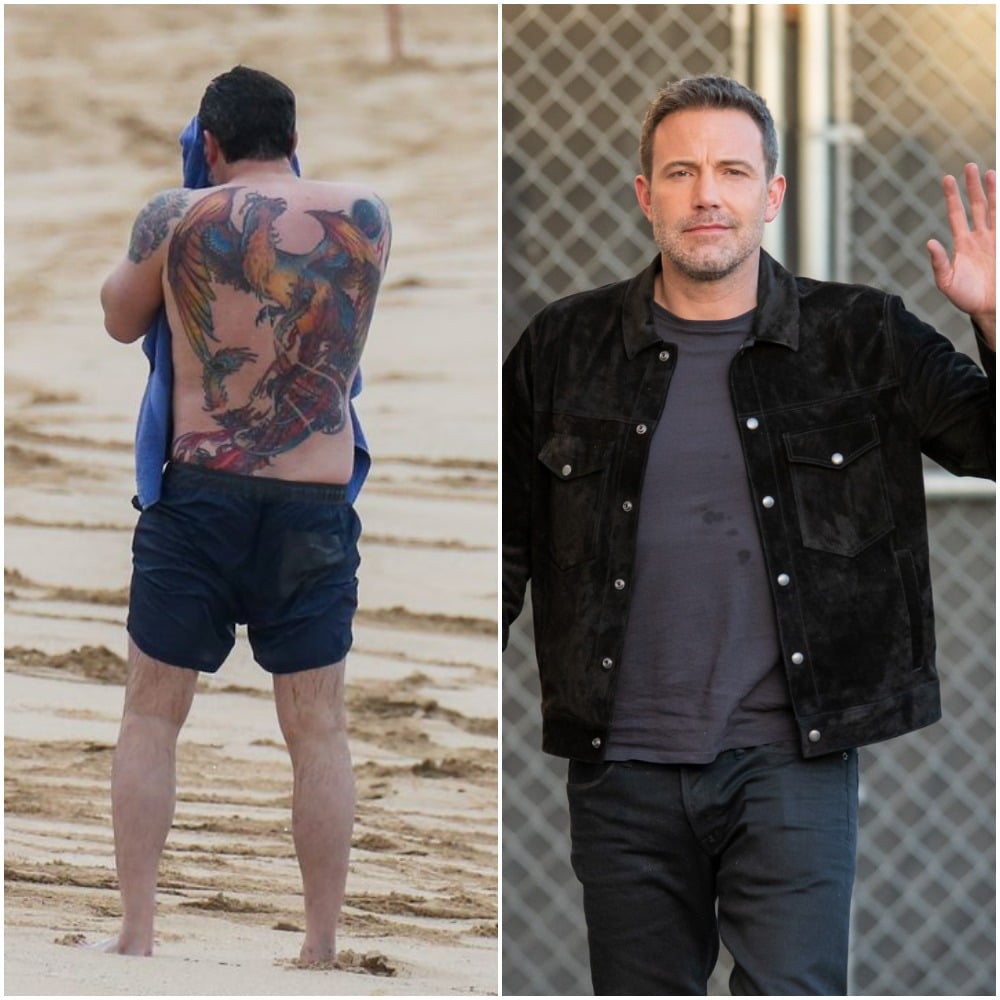 In 2019, the actor appeared as a guest on Ellen, and despite his relentless charity endeavors and his upcoming film, Triple Frontier, all that Ellen DeGeneres wanted to discuss was the tattoo, which made its first appearance back in 2015. Evidently, he received this tattoo while going through his divorce from actress Jennifer Garner. While the public's comments were not necessarily favorable and Affleck found himself defending his ink quite often, he claims he loves his tattoo.
Zoë Kravitz
Zoë Kravitz isn't just a talented actress, singer and model, but she also has an eye for tasteful tattoos. Even if you're not a fan of the genre, you can't help but love her collection of ink designs. The actress' love story with tattoos started when she was 18 years old, and today, at 31, she has over 60 tattoos.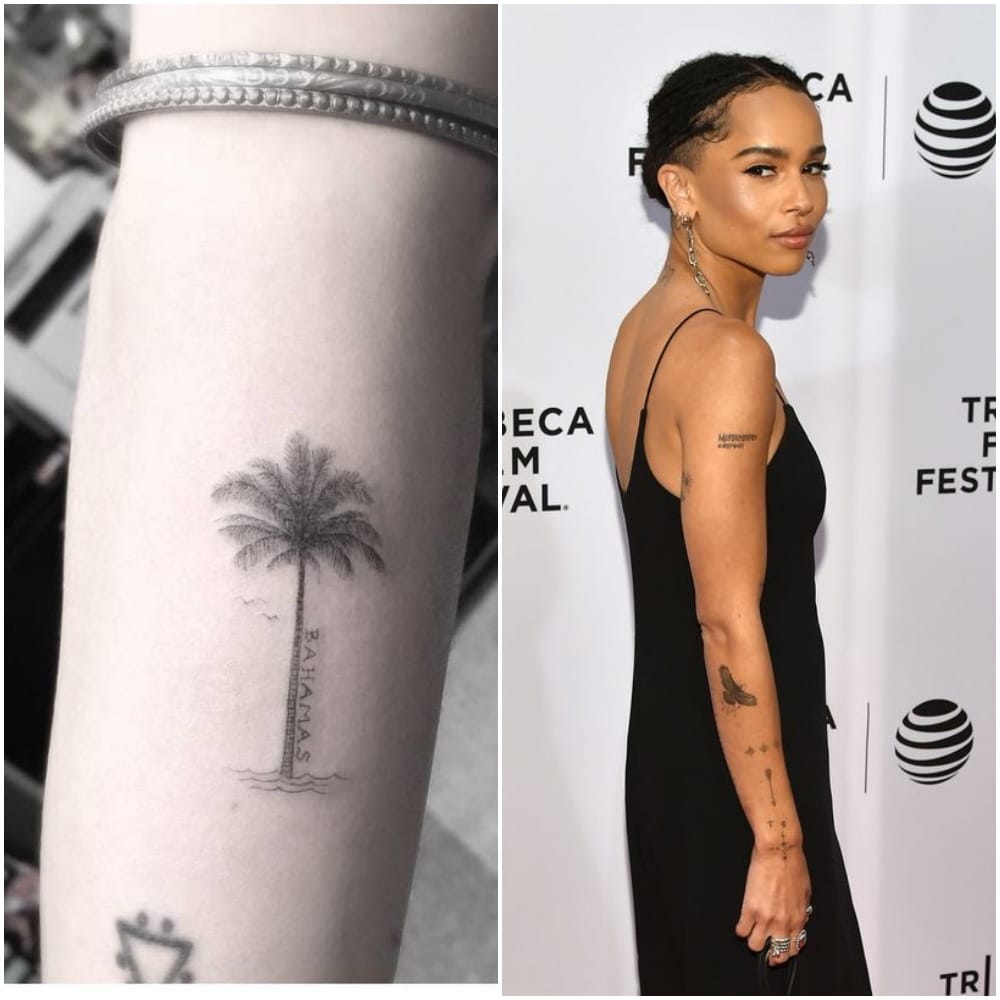 One of our favorite designs is a dainty palm tree with the word "Bahamas." A palm tree tattoo isn't too original, but this is one of the best we've seen yet (the actress got most of her tattoos at Dr. Woo's, whose works we've seen earlier on this list). Bahamas is the birthplace of her grandmother, and so the magical place holds a special meaning in her heart.
Kelly Osbourne
Singer and actress Kelly Osbourne has the word "Solidarity" tattooed on her head. You can tell this tattoo has a special meaning just by looking at it, and there are plenty of causes to express solidarity with, but the actress has gotten this tattoo in memory and solidarity of a very specific event – the mass shooting at a gay nightclub in Orlando.
The tragic event that took place in 2016 shook the entire nation, and many celebrities wanted to express their support and solidarity with the community. The singer shared a photo of her new tattoo on Instagram, writing, "the tragedy in Orlando devastated me and reminded me that every moment of our lives is precious. Every human is precious."
Dakota Johnson
This is another one of Dakota Johnson's mysterious tattoos, but unlike the "Look At The Moon" quote on her foot, fans have a speculation regarding this back tattoo. This is one of her biggest, and most noticeable designs, and the reason why the actress had to be covered in layers of body makeup while shooting certain scenes for Fifty Shades Darker.
Johnson never revealed the meaning behind any of her tattoos, this one included, but fans have speculated the actress got this body art to symbolize the bird motif, as a tribute to her grandmother, actress Tippi Hedren, who, in the peak of her career, starred in Hitchcock's famous film The Birds.
Halsey
It's easy to see recording artist and songwriter Halsey has a soft spot for tattoos, but although her ink collection might seem extravagant and tacky, every one of those designs is significant to her. We're here to talk about one tattoo in particular – her upside down horseshoe tattoo. Perhaps you didn't even notice it was upside down, but according to the singer, it holds a significant meaning in tattoo culture.
An upside down horseshoe normally represents bad luck, since it means the luck is spilling out. Yet, this is precisely why the singer decided to ink an upside down horseshoe on her arm: not to say that she doesn't have luck, but that she doesn't need it. This tattoo is a reminder that her success is a result of hard work rather than luck.
Rita Ora
Recording artist Rita Ora has at least 25 tattoos: she has the Sanskrit writing (turns out it's not as original as we thought when we first saw it on Jessica Alba), of her sister's name, she has a small heart, a star, a Sagittarius sign, the letter "R" and others, but one tattoo – the ballerina – stands out.
The ballerina tattoo is quite different, in shape and size, than most of the singer's tattoos. The elegant ballerina in mid-twirl is one of her most beautiful designs, but it also has a special meaning: unlike popular belief, that ballerinas are gentle and fragile, being a professional ballerina requires plenty of hard work and both physical and mental strength.
Jackson Rathbone
This list of celebrity tattoos wouldn't be complete without Jackson Rathbone's notorious ketchup bottle tattoo. You might be wondering what drives a person to permanently ink a bottle of tomato ketchup on his calf. The Twilight saga actor admitted that he had to get this tattoo as a result of a bet. The actor had made a bet with a friend, stating that whoever loses the bet has to get a tattoo of the other's choice.
You must admit, this is a strange tattoo, even for a celebrity. Cara Delevingne has a tattoo that says "Bacon," and actress Ashley Benson has a tattoo of "french fries" written in French, but this Heinz bottle of tomato ketchup takes first prize when it comes to weird tattoos.
Jonah Hill
We have a soft spot for siblings tattoos, can you blame us? You might not know, but actor Jonah Hill and Lady Bird star Beanie Feldstein are brother and sister. It turns out the Hollywood siblings (that's how people call them now) are surprisingly close, and support each other's career any way they can and any chance they get.
One of Hill's acts of support was getting a tattoo with his sister's name, with a reference to her role in the Broadway play, Hello, Dolly! We guess this was the next step after wearing a sweatshirt that said, "Beanie's Brother." We don't know about you, but we'd be super flattered to have our names on Jonah Hill's arm.
Lucy Hale
It's easy to miss Lucy Hale's ever-growing tattoo collection, since most of these tattoos are minimalist. The Pretty Little Liars star has at least 10 tattoos that we know of, and most, if not all of them, are meaningful to her. The actress shares a matching tattoo with her sister, and another matching tattoo with her on-screen sisters, the cast of Pretty Little Liars.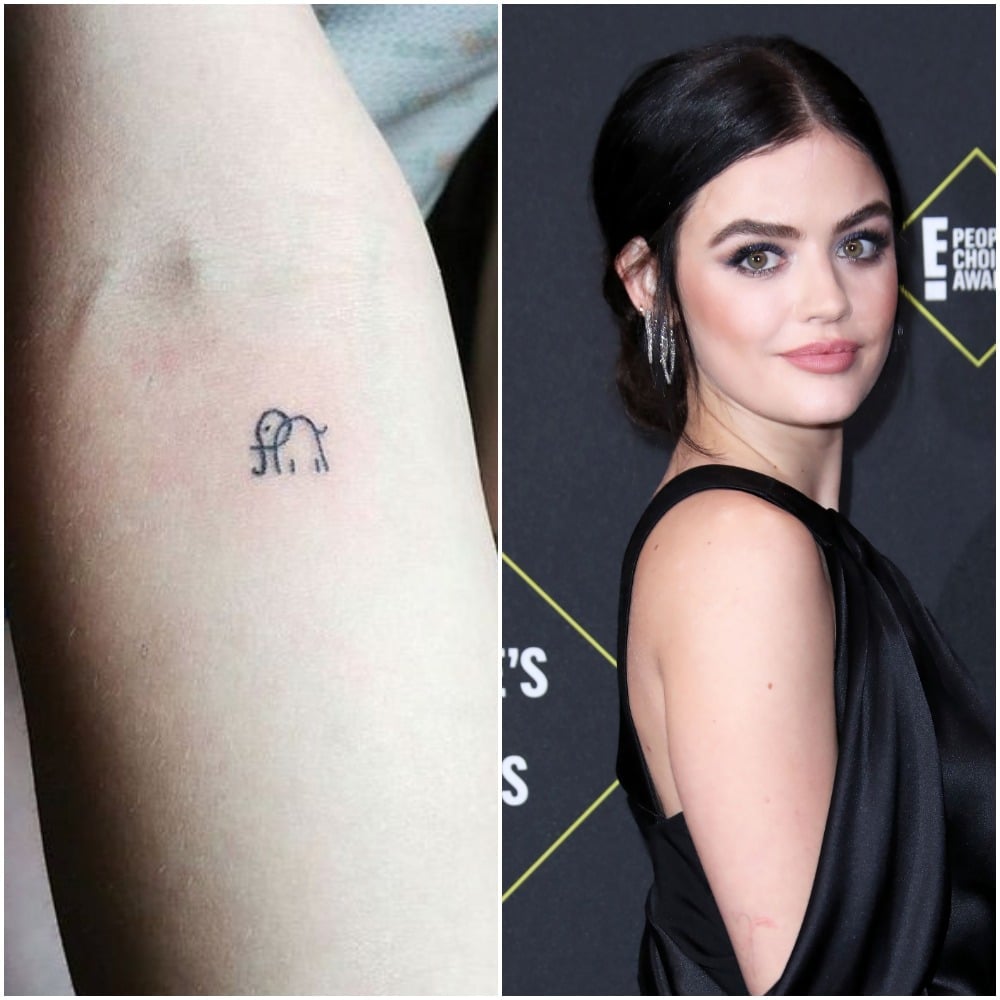 This dainty elephant tattoo must be one of our favorites. The actress received this tattoo while on a trip to Cambodia (that's quite bold of her!), and while the elephant symbolizes this trip, it's one of the tattoos she got mostly for aesthetic reasons. That's okay too!