Technology has certainly made it easier for people around the world to connect with each other, which has its ups and downs. Now that we're facing a new reality where we spend our days at home, we find ourselves spending most of our time online.
You probably never knew this, but we're here to help you get through this difficult time and let you in on a secret: on the notorious Craigslist website you can find just about anything, from job offers to haunted dolls. We've gathered some of the funniest Craigslist ads out there, that are sure to put a smile on your face.
The one with the saddle
One never knows what items Craigslist will offer next and whether people will find it useful or not. That's part of the fun – it's always a surprise. People's imagination is infinite and can easily surprise us. If you ever went horse-back riding, you must be familiar with the saddle and its peculiar shape, which is meant to serve as a supportive structure for the rider.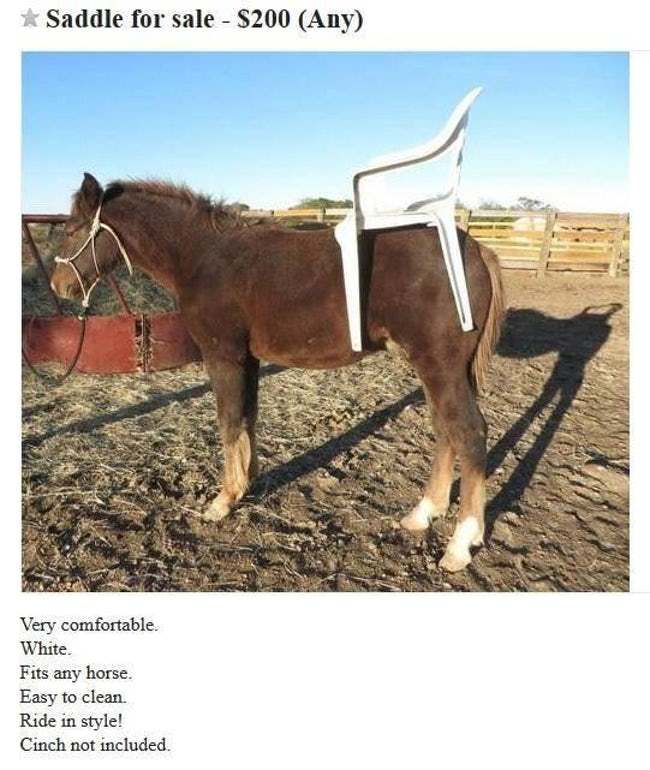 This seller hoped no one could tell the difference between this plastic chair and a saddle, but at least his description of the item was not far from the truth. It might not have been the most comfortable chair, but it is white, easy to clean, and as it shows, it actually fits a horse. So why not to grab this bargain for only $200?
The one with the puppy
Who doesn't like puppies? Almost everybody gets that Aww feeling when seeing one, and the thought of puppies is always lifting our spirits, which is something we could all use these days. In fact, some of us love dogs so much, they prefer them over humans, and honestly, we can relate to the feeling. Although this ad looks like one selling a puppy, you would be surprised with what it really has to offer.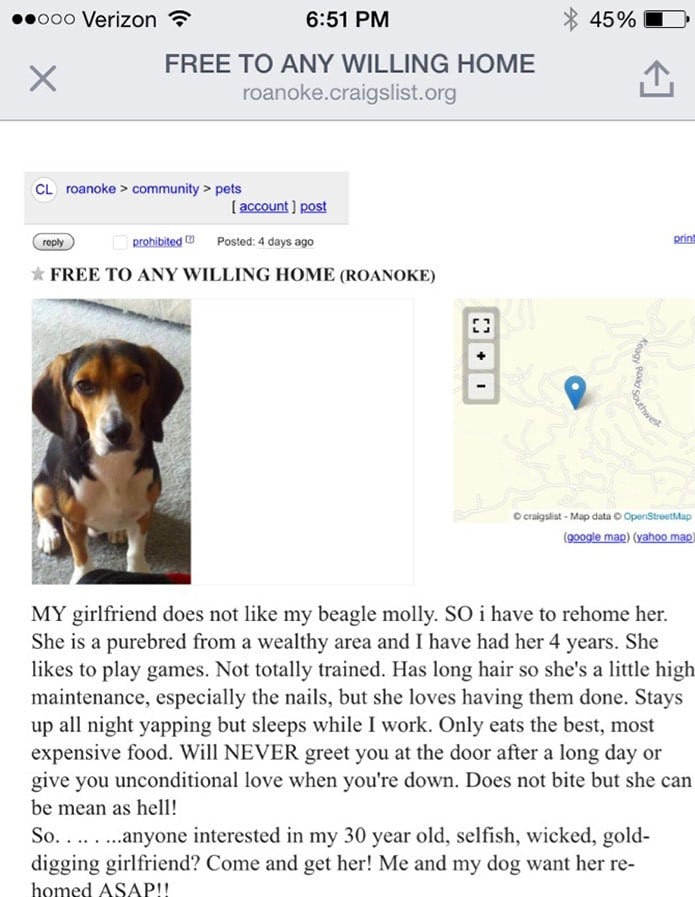 Plot twist: he's not trying to sell his beloved puppy Molly, but his girlfriend. All couples have feuds and disagreements, but not liking his dog is a deal breaker for this guy. He openly chose his puppy over his girlfriend, and so we assume this relationship wasn't going to last anyhow.
Time out for Kevin
A fish may sound like the perfect pet for people who don't have the time, energy, financial resources or physical space other pets require. Fish also often function as "starting" pets for parents asking to teach their children about caring for pets. While this ad does offer fish for sale, it does so in quite an unusual way.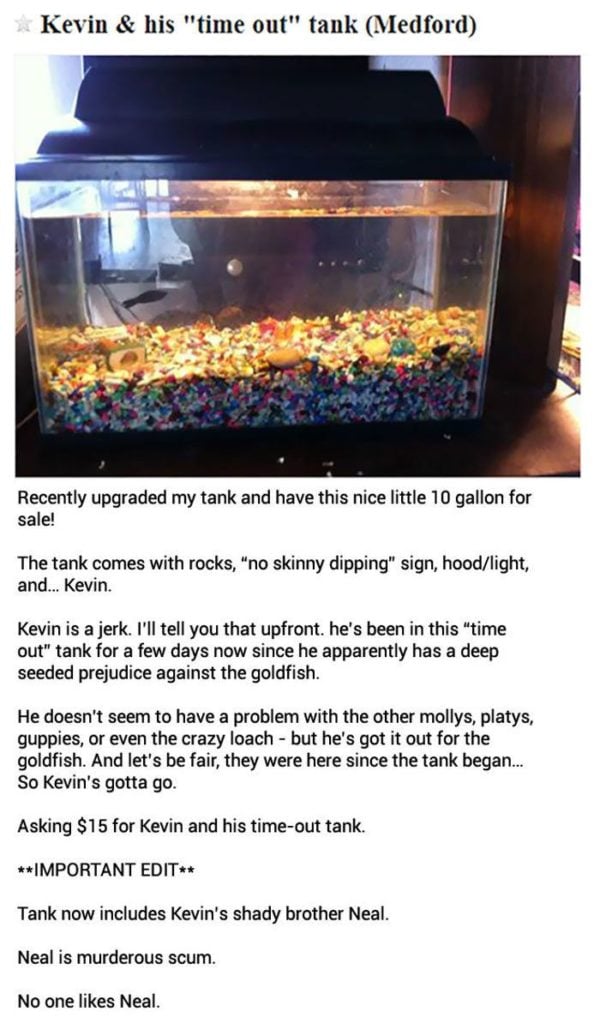 Although the ad starts by advertising a fish tank, it seems as if the guy's real purpose is to get rid of his fish Kevin, the small black fish wondering through those waters. Apparently, the owner has a strong animosity towards poor Kevin (and his brother Neal), and so in an attempt to get rid of his fish, he advertised their fish tank.
Don't drink and drive
Goes the famous saying. When you go out for a drink with friends, do you prefer to take a cab or a have familiar face to drive you home? Whichever it is, After a night out, driving back home isn't a responsible choice. Rather suspiciously, this Craigslist ad isn't advertising a cab, and perhaps not someone you might know, but it does promise you a fun ride.
If what you're looking for is something more than just a ride, this ad is for you. It does sound a bit fishy, but it's Craigslist we're talking about. What this guy offers sounds like a ride of a lifetime, with cool beers, cool music and cool company.
Nothing to do on your free time home?
Most of us dedicate our free time at home to things we like, such as reading, watching TV, cooking, etc. But these days, that we have no job and all this extra time home, we might get bored of doing the same old thing, and we might be looking for something new and exciting. Craigslist has got your back.
Have you ever thought why hamsters enjoy those big wheels so much? Although it might not give you the full experience, the human sized hamster wheel will allow you to exercise and let out energy, hamster-style. If you have the space for one of these giant wheels, here's an option for how to pass the time.
The haunted doll
We've all watched the notorious Chucky or other horror films with dolls that come alive, and they're fun to watch, as long as these movies don't come to life! That's the fun about movies – they're nothing like our reality. Perhaps after watching a horror film, this girl got some ideas in her head that made her look at this doll differently, and we don't blame her.
We wouldn't want to sleep in the same room with this doll either. This girl swears the doll is alive; it's been thrown away but came back, it laughs, and it talks all on its own! This girl is desperate to get rid of the doll, and we'd feel the same! I can't imagine anyone taking it, but anything is possible on Craigslist.
For the love of bacon
Who doesn't love bacon? We can have it for breakfast, lunch or dinner, it can be prepared in so many ways, and it makes every dish that much better. It's crispy touch, tasty smell and savory flavor is something most people can't resist – except for vegans, that is, who don't know what they're missing.
This person is a vegan and definitely not a fan of bacon. We admire her strong values and will power to resist the smell of bacon, unlike her husband, apparently. Her soon to be ex-husband has bought her all this bacon as a (bad) joke, which she clearly didn't appreciate. Instead of throwing it away, however, in a generous act, she's offering it to the lucky person who stumbles upon this ad.
Don't blame the dress
This hilarious ad shows a beautiful wedding dress, noting it was only used once, by mistake. By mistake? You might have already realized what sort of mistake this not-so-blushing bride was referring to. Her mistake wasn't choosing the right dress, but the right groom. We spend months planning out wedding day and making sure everything is perfect, and this bride was so caught up in planning her event, she never considered her husband might be the problem.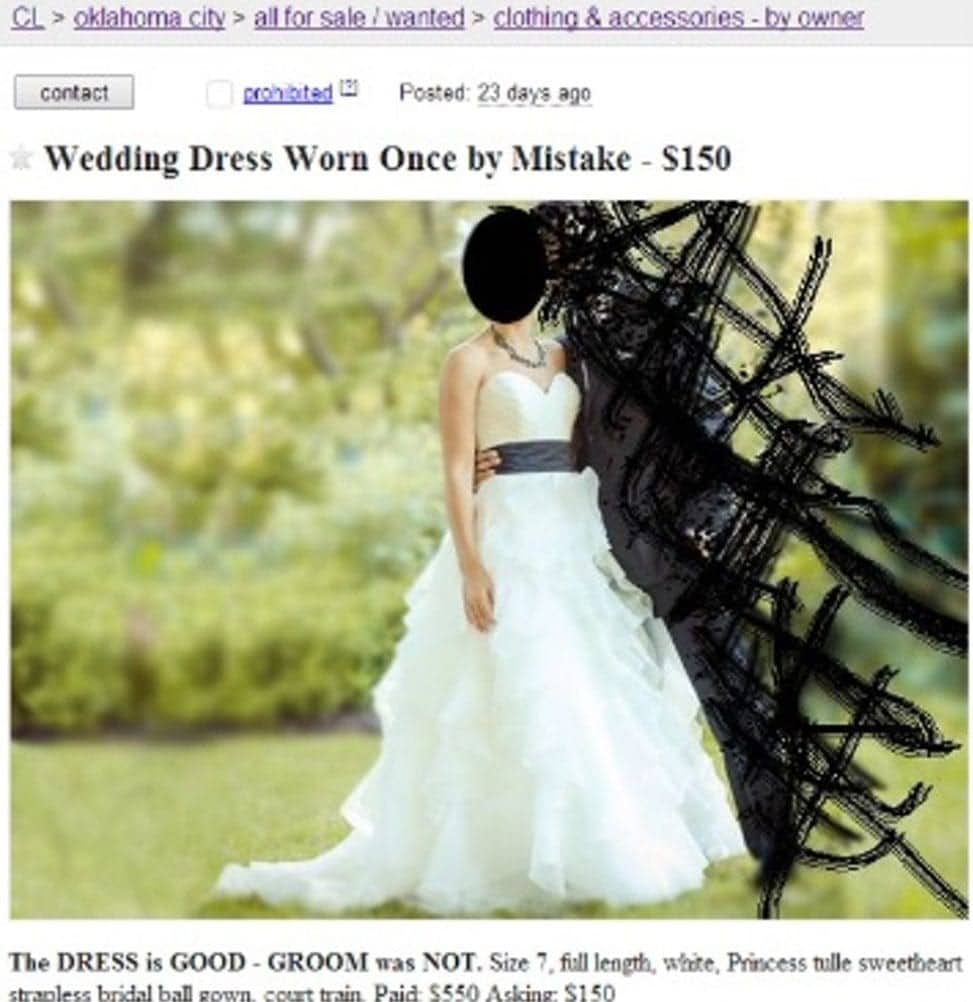 When we're choosing the person to spend the rest of out lives with, we must think carefully, although no matter how much we think of it we don't always know what the future might have in store for us. Unfortunately for this woman, her marriage did not last forever, but at least she ended up with a good sense of humor.
Grandma says hi
We warned you that you might find some extremely questionable ads on Craigslist, and we weren't kidding. Fresh bacon, wedding gowns, haunted dolls, and now teeth. We can't decide which is more insane, but either way, we're no no longer bored! We've found a new hobby to pass the time during these uncertain days.
We have so many questions about this ad: how did he get those teeth, why would someone want to buy them, and why is he selling them if he's "sentimentally attached"? We all get attached to objects that belonged to people we loved and remind us of them, but this is the first we here of teeth.
Mr. Peanut
If you go through the Craigslist ads with extra patience, you could get past the products or services and find people looking for people, whether it is to create a new friendship, build a relationship or just have casual fun. There's a surprising number of ads looking for that special someone who will check all the boxes.
One of those people who's seeking human companion on Craigslist is Mr. Peanut, who decided to try his luck finding some fun through Craigslist. Not all of us are familiar with the new, modern dating apps, and so Craigslist seems like a decent platform for this purpose.
There's always a catch
Who doesn't like free products? We all like free products, but it's important to remember it almost always comes with a catch – there's no really such thing as "free." In this case, the catch is particularly creepy (even the owner admits so). After all, why would anyway five away a brand new mattress if there wasn't any catch?
The owner of this mattress didn't feel right sleeping on this mattress after his grandma had passed away on it, and we must say we can't judge him. At least he's honest, revealing the reason why he's giving away this mattress, and if anyone is willing to take it – what happens next is their responsibility.
Have you seen her?
We've already seen how Craigslist can be used to find people we've only seen once before, and if it worked in the past, there's no reason why it shouldn't work for this guy. Whenever we encounter on the street or the subway someone we like, most of us don't have the courage to do anything about it, and so we admire this person for giving love a chance.
After seeing this girl on the subway, this guy couldn't get her out of his mind, and he decided to do whatever he could to find her; this is how the biggest love stories begin! The best he could come up with was drawing the girl and posting the picture on Craigslist, hoping she might see the ad. Is this gesture creepy or sweet? That's up to you to decide.
THE dress
It's common for mothers to save their wedding dresses for the day their beloved daughter finally takes the same step and walks down the aisle – this is a nice gesture that allows their daughters to have a very unique, traditional 'something borrowed.' What could be more special than getting married in a dress that carries this beautiful sentiment?
This mom hoped that one day her daughter would be walking down the aisle in her vintage wedding dress. Unfortunately, she never considered it would have to be mended from a size 10 to a size 2, and it can't be altered. Instead of handing her wedding dress to her daughter, then, she decided to sell it and make a profit, and her ad is one of the funniest we've seen yet.
Looking for a doppelganger
We're fortunate to have just a few close friends we care about and who truly care about us, and we're fortunate to have only a handful of people we truly miss when they're gone! At a time like this, when we can't see our friends, and a close friend can't be reached, it can leave a sense of emptiness which can only be filled by this person.
This group of friends was looking to replace their good friend Darby, who's an essential part of the group. Since he went on tour and his absence is felt, they figured they could replace him with a doppelganger who looks the same and has a similar, funny and outgoing personality. They're offering fun times, food and beer in return, and if you ask us, it sounds like a pretty sweet deal. The only question left is how would Darby feel about this.
Love at first sight
Did you ever get this feeling when you saw someone on the street, the bus or the store that you just had to get to know this person? We've all had these sudden crushes on people we only saw once. Craigslist provides you with the opportunity to meet this person.
This college student had to meet his mystery crush once more, and he was even willing to wait a year for the anticipated meeting. He decided to post this ad, hoping his secret crush would see it and share his feelings. We wish him the best of luck.
Breakups are hard
We've all experienced bad breakups, and we know how hard and emotionally straining they can be. Yet, each of us reacts differently to breakups. While some take it more lightly and maturely, others go crazy and need to find outlets, to compensate for the loss.
This guy had a very unique way of coping with the breakup from his girlfriend, Amanda. In an attempt to cope with this difficult breakup, he made a rash decision to adopt 11 snakes and other types of reptiles and name them all after his ex-girlfriend. Why? He can't even explain it, but at the time it seemed like the right thing to do.
The stalker
When people say you can find just about anything on Craigslist, they really mean it – from love confessions to robbery confessions. Although this story started out creepy, well, it ended creepy as well. If you ask us, he owns an apology to this poor girl, not to Walmart.
This guy must have felt pretty bad after what had happened (the violent robbery and everything) and decided to confess and apologize, hoping she will forgive him and perhaps even accept his date invitation! How romantic.
Is this a joke?
This person insists this isn't a joke, but to us this story sounds too funny to be real. Have you ever got drunk and did something you later regretted doing? For most of us the thing we end up regretting is calling or texting our ex, but this person took it to the next level. When it comes to your hair, you know you're in bad shape.
Clearly, watching Last of the Mohicans wasn't the best film choice when he was at this state, and he ended up with the worst hair cut of his life. This is the kind of decision that stays with you for a couple of months, until the hair grows back, but at least it's not as bad as getting a tattoo.
Pizza lover
We've have all heard about second hand items, and personally, we love them – they have a vintage look and they promote sustainability. Second hand food, on the other hand, is not something we support. When this person ordered food he had big eyes – certainly bigger than his stomach – and he realized he ordered more food than what he could possibly eat.
This person figured that instead of throwing away an entire tray of pizza (and a half-eaten sandwich) he could try his luck selling it – it's a win-win situation: someone gets a (half) fresh pizza, and he makes a few extra bucks. At this point, I think we've seen stranger things.
Who wants to snuggle?
We all enjoy snuggling on the couch watching our favorite show after a long day. However, snuggling in a stranger's blanket (with questionable stains) seems like it would have the opposite effect – it wouldn't take the stress away, but it would add more stress!
At least he was honest about the source of these snuggies, but once we're read the words "I work in a retirement home," we knew this sounded fishy. This person clearly thinks it's "no big deal," but we beg to differ, and we prefer to cuddle inside fresh, clean, new snuggies. But maybe that's just us.
"Some wear"
We've heard of false advertising, and we've all seen it before; perhaps some of us have even tried to use this advertising method – but using the words "some wear" to describe this couch is outright lying. The only great value you could get for this couch is if it was free, and maybe not even then.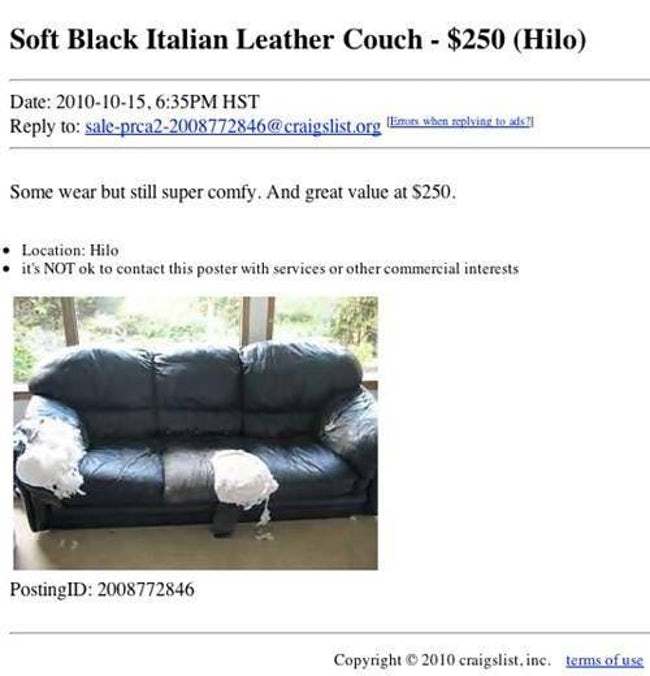 We do appreciate how hopeful (not to say naive) people are, thinking that anything can be sold on Craigslist. That's the beauty of Craigslist – people think it can perform magic. For a $250 you can buy a new couch, so this person must expect a magic trick to take place.
I'm sorry, what pumpkin?
Fruits and vegetables should always be a part of your diet, and especially during this time, when we spend so much time home with little to no exercise. Since they are all-natural, they can come in curious shapes sometimes, like this oddly-shaped pumpkin. This person is selling this pumpkin for its odd shape, not for its taste or nutritious value.
This pumpkin would certainly make for a good conversation topic on Halloween – and you don't even need to carve it! It's not every day you find a pumpkin like this, so this seems like a one-of-a-kind deal. Although Halloween is behind us, we could all use some entertainment (in the form of a pumpkin) during this time.
Looking for Juliet
We've heard all kinds of crazy stories about how people met, some of them more romantic than others. You'll certainly have a good laugh once you look at this ad, but we're not sure this woman would feel the same if she ever stumbles upon this message.
This is the kind of situation no one likes to be trapped in, as going to the bathroom is normally a private moment. However, mistakes happen and, to be fair, this can happen to any one of us. Of course, his reaction to this awkward situation isn't a normal one, and it's what makes it even worse.
What a bargain
Looking at the photo, it seems like a decent car – perhaps a bit old and used, but overall decent. It might not be a bargain price, but if you're looking for a decent second-hand car, this ad might catch your eye. That is, until you read the description (which is always important to read!).
All tend to ignore the small letters and agree to anything we see online, but this ad is here to demonstrate why it's always important to read the small details before you purchase anything online. Reading the description, we find out there are some very questionable and alarming stains in the back seat, and also dog feces. It doesn't sound so good now, does it?
Wanted: Mule
Who looks for a mule these days? Never mind how incredibly random it is looking for a mule – of all pets and farm animals out there – why a mule? – what makes this ad even more hilarious is how particular this guy is about the mule's name. Why not just take a mule and change his name?
"Name is non-negotiable" – this phrase just made our day a whole lot better. We've been feeling down lately due to this stressful an uncertain situation, and we needed something to put a smile on our face, and this ad did the trick.
Love at Trader Joe's
We've seen a few of these ads by now – people who are looking for someone who caught their attention! However, this ad is not like anything we've seen before. Even if you haven't been to Trader Joe's lately, and you can't help him, this person has a unique, funny story to tell. Although this story might embarrass the girl, we know he means well.
Could this be the next Romeo and Juliet? We're afraid that even if this girl does see the ad, she might be too embarrassed to approach the guy, even though he was probably trying to flatter her.
Sounds like a fair trade
In the old times, when people didn't have money, they used to exchange items or services. This man found himself in a sticky situation: he wanted a new litter box for his cat but he didn't want to clean it. The problem is he also didn't want to spend any money on a new box for his cat. Instead, he thought he could replace the old box and exchange it for pancakes.
And not just any pancakes, but all you can eat! Would you be willing to clean a litter box for pancakes? Some people hate cleaning, while others don't mind the smell as much, and so there might be people out there who'd be interested in such a deal. We told you anything can be found on Craigslist.
My needs
When it comes to job hunting, you can't be too particular. They say that beggars can't be choosers, and sadly, that is the case sometimes when looking for a new job; while we do need to look for something that would meet our skills, our needs and our expectations, we can't afford being too picky.
This girl apparently never had a chance to learn this important life lesson, and quite naively, she thought she could find a job that meets every one of her exaggerated, not to say silly needs. We all wish we could work whenever we want to, have flexible hours, plenty of vacation days, and so on, but we also need to be realistic.
Elf on the shelf
This guy is offering his services as a Christmas elf, to brighten up your Holiday season, and we must admit he makes a good elf! If you're getting tired of having the same old Christmas decorations every year, this is a unique option you probably never even considered (because why would you).
For only a $100 an hour you can have your very own elf on the shelf who stares emptily at your guests for the duration of the event. You can even name him whatever you choose. Every time we think we've seen everything there is to see online, Craigslist manages to surprise us.
Sounds tempting
We all love coffee cake, and some of us love the cake even more than we love coffee. It's hard to refuse any kind of cake, bur a partially-eaten cake somehow doesn't sound as tempting.
If you ask us, this family was to hasty with their decision to sell the cake! At least give it a chance – just because you don't want it now doesn't mean you wouldn't feel differently about it tomorrow, and by then it might be too late.
Little ball of fur
Having a pet at home can certainly brighten our days; they give us that bit of energy and happiness we might need sometimes and their presence at home make us develop a great affection towards them, to the point when they become part of the family. We can't imagine losing one of them, so we hope they stay with us for as long as possible, and we dread the thought of them leaving the world one day.
Unfortunately, when they do leave us, this loss leaves us feeling heartbroken, as if a part of us is missing. To compensate for this loss, some people tend to look for another pet that will bring back all those happy feelings of closeness. Hopefully, the guy in the ad will find a new drinking partner, one that is not a cat.
You might be the one
When we look for a partner, we all have in mind certain characteristics of what we would like our significant other to be like, from their physical look to their personality. We all hope to find this special someone to share our lives with.
Only when you get to know yourself better, you start to better understand what kind of person you're looking for in a partner, and this ad is a great example of that. This person is looking for someone to spend his life with, and he has very particular requests.
Lady bug
What has been the craziest thing you have done after having a few drinks? Having one drink too many can make us do some pretty wild things we might regret in the morning, like, say, purchasing 1500 live ladybugs (yes, they sell them on Amazon).
Perhaps the problem wasn't even his drinking, but that Amazon offers 1500 live ladybugs for sale. Either way, we can relate to his feelings of remorse, and we even feel sorry for this guy, who's now stuck with 1500 live ladybugs, all because he wanted to have some fun.
Game of thrones
Imagine moving into a new place and having to look for furniture to fill your new home. Well, you don't have to imagine, we've all been there. You might look for them online or go to different stores, the options seem infinite! It might take a while to find those chairs that will look just as like we imagined, but it's worth the wait.
This might sound strange, but sometimes, the best findings can be found on Craigslist. This antique hand-made throne isn't something you will find at Ikea, which means it's one-of-a-kind, and although it's rather peculiar, it's could make for a great topic of conversation.
Camouflage
In case you are looking for something a little more extravagant and out of this world, Craigslist allows you to use your imagination and explore its endless realms. If you don't believe us, take a look at this ad, which forces you to use your imagination in order to see this truck: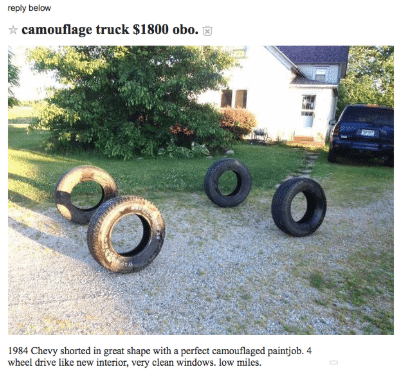 They say it's an 1984 Chevy, but how could we believe them with no proof? I might be seeing something else completely. However, this imaginary car allows you to take a ride anywhere your mind can take you!
Super Mario
It can be very frustrating when you're playing a video game and you get stuck on one level you just can't pass. Craigslist is there for you in such frustrating cases, and this guy decided to put up an ad looking for someone to help him pass this level.
We must say we appreciate his persistence – he only posted this ad after trying to beat the level on his own for 476 times! We would've given up a lot sooner. However, the phrasing of the ad seems problematic to us, as we're not sure anyone would want to help out after being referred to as "a random idiot."
Cat snake
If you don't know your animals, don't put up a Craigslist ad. The reason why he's "long and nimble" with "dryish fur" is because this isn't a cat, nor a snake, nor a cat-snake (there is no such thing) but a weasel. You learn something new every day, don't you?
"Seems to like cat food, but this isn't a cat" – what a keen observation. This must be, without a doubt, one of the weirdest ads we've seen yet. This guy probably found this weasel and tried to get rid of it – he doesn't even know what it is, so how could he be expected to take care of it?
Free water
You can't jest sell anything you see out there – it's like selling free air! We have some news for the guy in the ad – you don't "have" free water, the water are just there, for anyone to use (although that's not recommended, since it's dirty rain water).
It surely is a natural resource, since it's rain water, and it is great for gardens, trees and plants – but people don't need to buy this rain water from you, since it probably rained in their backyards as well.
Handmade
This one-of-a-kind, custom made shoe rack is in fact a rhapsody. This isn't exactly false advertising, since it does make for a shoe rack of a kind, but trying to sell this rhapsody as a shoe rack is definitely over-selling it, and it's way over-priced.
Asking $25 for a rhapsody you can get for free seems outrageous to us, but again, we've already seen stranger things. It would've sounded like a better bargain if he would've thrown in the shoes as well.